Your tailored Media List & Press Release for just £49 - Time Limited Offer

Monday, May 13, 2013 at 1:30 PM

-

Friday, May 17, 2013 at 6:00 PM (BST)
Event Details
A Media List and Press Release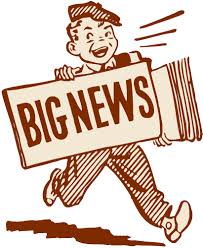 Time Limited Offer

How many times have you done something great that you'd like to get out to the press but not really known:
a) how to do it
b) not had the time, or
c) you're working from a really old press list (journalists move around a lot!)
This could solve your problem.  To Market is offering a 5 day only deal for those that want to get their name out in the news!
We will:
1.  Create a media list, tailored to your target media - this will include press, magazines, bloggers, tv and radio
2.  Write one press release and dispatch it

3.  Keep you informed of any media enquiries and respond on your behalf
4.  Send you the mailing list with contacts

Our special offer price is just £49.00. 
Here's the catch though - this offer is only available until this Friday, so you'd better be quick!
After that the cost will be £99.00. 
Great for announcing special news, a contract you've won, a brand new commission - in fact anything newsworthy!
To secure your booking just register here or at the link above.
Remember, this offer is only available until Friday.
Terms:
1.  Must be used within one month of purchase date
2.  UK Press and Media publications only
3.  To Market will write the release but all information to do so and hi res images for press must be supplied
When
Monday, May 13, 2013 at 1:30 PM

-

Friday, May 17, 2013 at 6:00 PM (BST)
Add to my calendar
Organizer
www.to-market.co.uk
Creative marketing for your restaurant, food, creative or small business