Event Information
Refund policy
Refunds up to 1 day before event
Eventbrite's fee is nonrefundable.
Join us, as together, we create something special and nourishing to the spirit in preparation for the dawning of the Solstice.
About this event
For many of us, the challenges of the past year have left us feeling out of sorts, with low energy and little enthusiasm for the wonders of Life. This is not surprising when we acknowledge how much has changed.
Many cultures around the world use the power of water in cleansing rituals. I would like to share you with a simple, yet so powerful, ritual that you can perform in your home to help clear and harmonise your energetic body
This offering is open to all regardless of faith or culture.
This class is not suitable for you if you are pregnant, please contact me if you would like to receive face to face session.
The Basic Series – Your Water Ritual
www.abdominaltherapycollective.com
Rosita Arvigo, one of the founding members of the Abdominal Therapy Collective, studied for many years under the watchful eye of Don Elijo Panti, the last surviving Maya He 'man in Belize. The work of the Abdominal Therapy Collective has been to carry the torch of his healing techniques into the 21st century, weaving the ancient wisdom with modern anatomical knowledge.
This class is your opportunity to learn a sweet, simple yet oh so effective Water Ritual that will help to harmonise and cleanse your energetic body.
What will we cover?
During this class, you will be gifted a simple and effective water ritual to help restore and rebalance your mind, body, and spirit. Open to all regardless of belief system.
You will learn:
A brief history on the importance of Spiritual bathing across various cultures
How to connect with and harvest your plant allies
How to create your own spiritual bath and lustral bowl
How to cleanse your energetic body
This class gives you simple and practical tools to bring harmony and balance into your life.
What's included and what do I need to bring?
A rich, four and a half hours of easy to access information. We will prepare a Spiritual bath together and there will be time for us all to perform our own Water Ritual and share our experience.
There will be some pre-class activities so that we all arrive on the day with everything ready, to move forward together into a sacred space. Please keep an eye on your emails as I will be sending out information as the time approaches. ( sometimes my emails find their way into the trash)
I invite you to create a comfortable space in front of your screen so that you are free to engage with this powerful work without distractions. You will also need a space where you can bathe yourself, this could be in your garden, weather permitting, or in your bath bathroom.
Make sure you have made something delicious and nourishing to sustain you and bring plenty of fluid.
You will need:
a bucket
a cup or gourd
Incense or a space clearing spray
A candle and precious objects so you can create a small altar
Towels
Sarong and or bathing suit
Access to some living plants (either shop bought in a pot or in your garden)
A small pretty bowl
An open heart
A journal
If you like to take notes then do, but if you like to just sit and enjoy the experience that fine too
After the class, I will send you PDF's with all you need to know and some useful resources.
Dress code
The most important thing is to be cosy and comfortable. You will be performing your own Spiritual bath so be mindful of the temperature and have some warm layers to hand.
What happens next?
Once you sign up you will receive a welcome email and further information on how to prepare for our time together.
Follow Up
There will be an optional follow up call June the 25th , 6 pm - 7 pm for those who would like to review their week and share their experiences over the past week.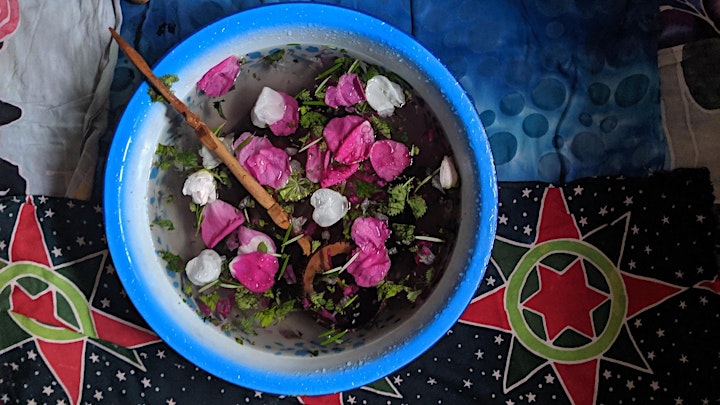 Date and time
Location
Refund policy
Refunds up to 1 day before event
Eventbrite's fee is nonrefundable.