A Health & Well Being Retreat for Womxn including 3 x Healthy meals per day and daily workshops with Autumn Brianne
About this event
I'm so excited to share my newest retreat with you! Spend a whole week at Cocoon Portugal is a 275 acre coastal farm + retreat, offering inspiration + community for the modern traveller.
Situated on the breathtaking Atlantic coast of Portugal, near the charming fishing village of Zambujeira do Mar, in the Alentejo region, which is known for its long stretches of untouched coastline and charming white-washed villages. From Lisbon, we're about two hours drive south, entirely dependent on how many espressos you've had. (from Faro, we're slightly closer) The ocean, with bluffs, trails, and sandy coves, is a 15 minute drive away.
We will have optional daily workshops (AM & PM) where host Autumn Brianne will create pure magick through the restorative power of nature. Autumn uses a range of methods including movement, meditation, breathwork, strecthing and intuitive yoga, alongside in-depth discussions and tasks that will further develop our understanding of working with nature, plants, herbalism and self sufficiency. The ultimate goal being to leave feeling healthier in mind, body and spirit. Surround yourself with like-minded souls, opening yourself up to what can be created when we share our energy through the power of divine feminine wisdom, sisterhood and nourishing meals.
The venue itself is also pure magic, where between the oversized hammocks and the freshwater lake, you'll start to lose track of time. The kind of place where each morning is a celebration, practicing under the canopy of old growth pines, but so is each evening, with world class wine and fascinating dinner conversation.
You can tailor this to your preference to enjoy as a holiday or a retreat. You can sunbathe, Kayak, stand up paddle board, cycle, swim in the on-site lake, go to the beach- the inclusive activities are endless. Additional activities can also be arranged at a cost such as Horse Riding, Surf Lessons, Spa Treatments and many more.
Participants can also share their gift if they feel called to- so far our signups are a diverse mix- so if you're a pofessional dancer wanting to host a class, a reiki practitioner, a tarot reader, a therapist, a beautician, a DJ- you can set a fee, a donation or exchange your gift for another girls offering.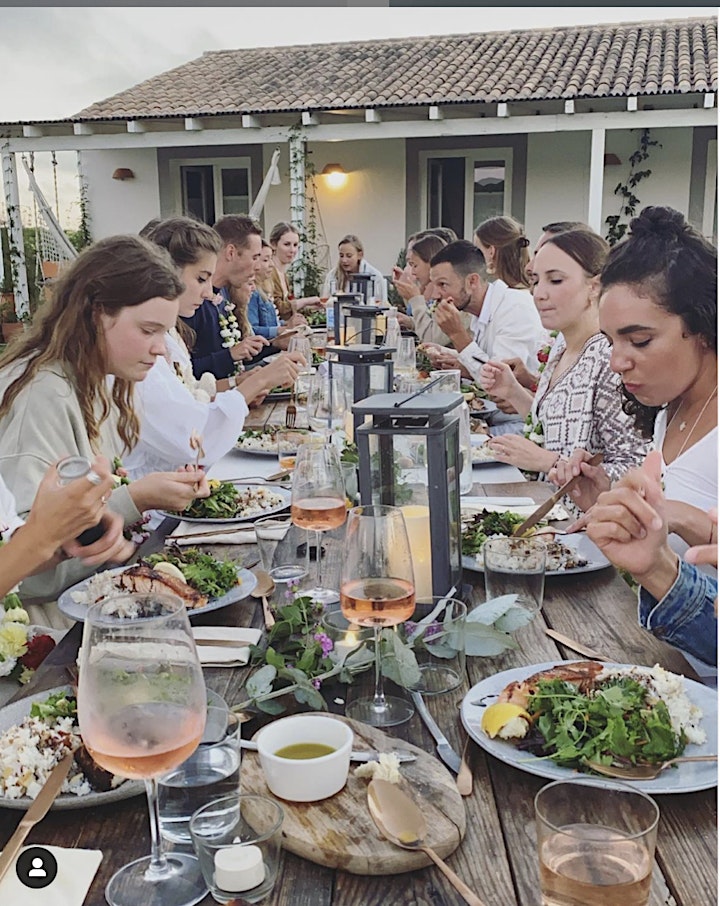 Whats Included?
3 x Healthy Meals per day with a farm to table approach by our private chef
Beautiful Boho Accommodation
Daily Workshops hosted by Autumn Brianne
Activities such as Beach Picnics, Stand up Paddle Baording,Kayaks, Bicycles
Whats NOT Included?
Flights
Transfers
Alcohol - Although beautiful local wines available on resort from around £15
Food not listed above
T&Cs: Please note that a non-refundable deposit of £250 will be payable upon booking. The final balance will be payable by 31st January 2022. This is non-refundable in case of drop out. Please insure you have adequete Travel Insurance cover for unforseen circumstances such as illness, personal injury and COVID-19.