Learn how to involve youth voice in your organisations, services, or projects
About this event
Do you want to get young people more involved in your service, but feel like you don't know how to do it?
Does it feel like a risk you don't know how to navigate?
In the first section of this event the speakers will be giving insights into their work and how they involve young people, followed by a short Q&A.
Afterwards, we will split into breakout rooms to talk about times you've found it difficult to engage young people in your work. The speakers (including a young person engaged with their work) will help troubleshoot and offer specific support on integrating youth voice into your work.
The idea is that you'll come away with a Youth Action Participation Plan (YAPP, for short) with ideas tailored to your organisation's needs and direct actions that you can go back to your organisation and implement!
Youth Voice is a valuable tool, and we hope this workshop shows you how you can take that tool and use it for yourselves!
Access: All of our events will have automated closed captions.
About the speakers:
The speakers of this workshop have years of experience in engaging young people and involving them in services and service offers/provision at various levels within their organisations. In this session they will share their expertise to help develop actionable steps for you to integrate youth participation into your own organisations.
Read our Festival House Rules here: https://actforchangetogether.org.uk/festival-house-rules/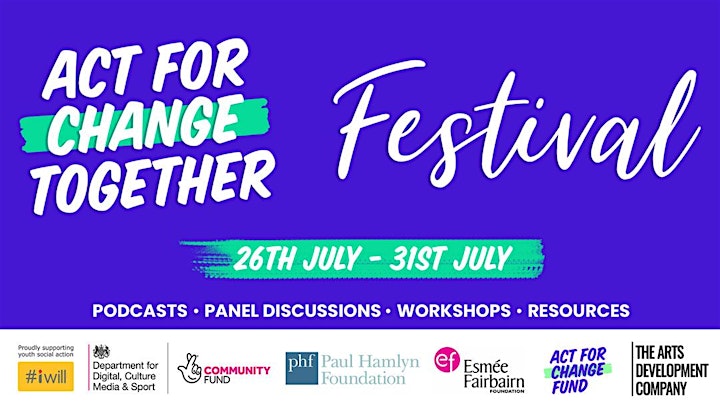 Act for Change Together Festival
Our festival aims to: 
Change the narrative / challenge stereotypes
Showcase how to meaningfully involve young people in services / orgs / decision making
Share young people's knowledge & skills in making change
Showcasing the 32 orgs and the young people leading and making change
The Act for Change Together festival comes out of the combined drive and passion of 32 organisations across the UK, supported by Act for Change Fund, that believe young people are the future and have the power to lead change.
Through a series of podcasts, workshops, panel discussions, and videos, our amazing youth activists and adult allies and partners (from the 32 funded organisations) will be sharing their stories, experiences, top tips, and things they've learned from their time delivering youth-led social action campaigns – and you can get involved too!
With every event, we're hoping to hear from you with your own experiences, questions, and insights, so together we can build an experience that we can all learn from and remember.
Organiser of Youth Action Participation Plan
We are a steering group of young activists drawn from some of 32 organisations funded by Act for Change Fund. With support from Molly Scarborough and The Arts Development Company, we have co-produced our own online festival that shares our skills, experiences and knowledge, that challenges ingrained stereotypes and showcases the youth social action work the 32 organisations are leading across the UK.
All of our festival events and ideas have come from workshops and planning sessions with other youth activists within the wider network of organisations. We look forward to sharing our work with you.
Find out more about our festival here: https://actforchangetogether.org.uk