Description
Youth Friendly Employment 2016 Annual Conference
Attract and develop the best young talent the UK has to offer!
24th November 2016 Rockingham Forest Hotel, Corby Northamptonshire
Recruiting, training and retaining young people in employment are key issues for many organisations. In addition, young people remain one of the groups most at risk of unemployment.
The third Youth Friendly Employment Conference will explore the key characteristics of 'youth friendly' organisations.
Programme: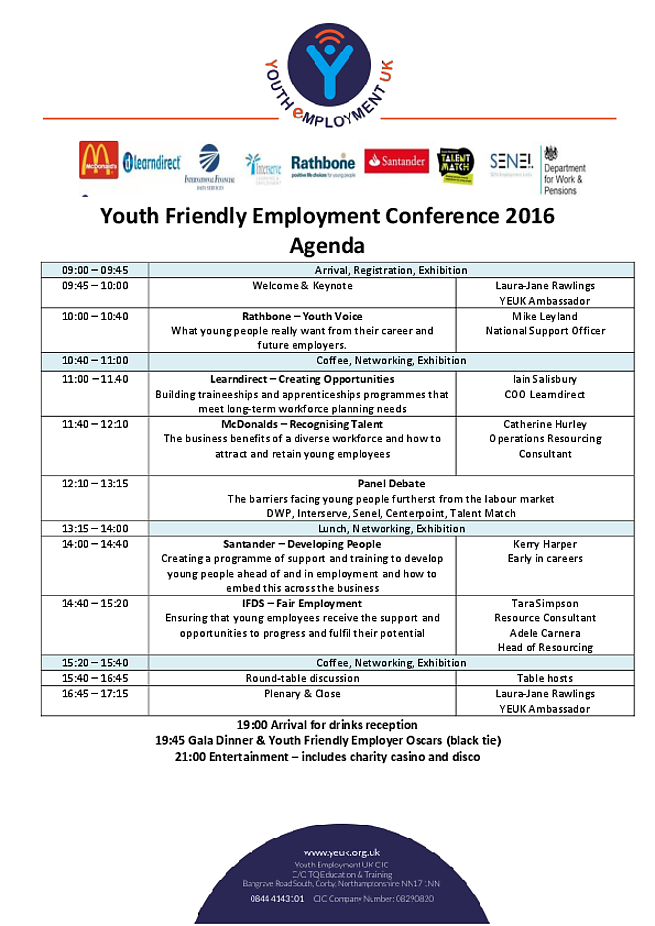 Why attend?
Listen and learn from organisations who put young people at the heart of their business

Hear the perspectives of young people and understand more about the barriers they face when preparing for the world of work

Share best practice with a range of people from a variety of organisations and sectors

Find out how to attract and develop great young people for your business
You are invited to apply to enter the Youth Friendly Employer Awards 2016
The Categories are
Youth Friendly Small Employer 1 – 50 Employees

Youth Friendly Medium Employer 51 – 250 Employees

Youth Friendly Large Employer more than 250 Employees
Closing date for applications is 21st October 2016 and nominees will be announced on the 28th October 2016.
The winner will receive an award and have the opportunity to work with YEUK Youth Ambassadors to showcase their journey to becoming a Youth Friendly Employer.
There will be an Awards Ceremony and Gala Dinner that you would attend.
Sponsorshp and Exhibitor opportunities are also available for the conference and gala dinner.
For more information, contact shona@yeuk.org.uk