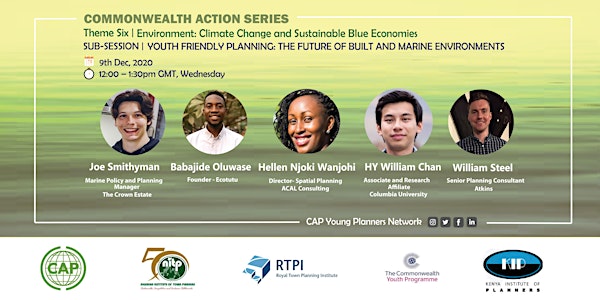 Youth Friendly Planning: The future of built and marine environments
Join the final Commonwealth Action Series subsession - Youth Friendly Planning: The future of built and marine environments
About this event
If you are passionate about saving our planet and want to find out how you can take part in shaping the environment, then you simply cannot miss this session.
You are cordially invited to attend our final session on Wednesday, 9th December 2020 from 12:00 - 13:30 GMT.
This session on Youth Friendly Planning: The future of built and marine environments is an exciting approach to raise the awareness on the potential of youth engagement and meaningful participation to create youth-friendly urban plans, while harnessing the blue economic opportunities for achieving more integrated, sustainable and climate resilient cities.
Join our array of leading young planners and learn how planners are contributing to the climate action and sustainable blue economy
- Joe Smithyman (Marine Policy and Planning Manager at The Crown Estate) / RTPI
- Babajide Oluwase (Founder - Ecotutu) / NITP
- Hellen Njoki Wanjohi (Director - Spatial Planning, ACAL Consulting) / KIP
- HY William Chan (Associate and Research Affiliate, Columbia University)
- William Steel (Senior Planning Consultant, Atkins) RTPI/CAP Young Planners Network