About this Event
Youth Ignite Empowerment Conference - 'To Empower, Educate & Engage Young Minds'
Youth Ignite is a Youth Empowerment ONLINE event & networks with entrepreneurs, educators & inspirational speakers. Creating platforms to develop global, resilient conscious future generational leaders; a response to strengthen the lives of young people age 14-35yrs of multi-cultural & multi-faith communities. Addressing mind-sets, attitudes and behaviour; equipping them with tools to thrive and to navigate their lives through transitional times. There are 2 additional monthly Empowerment sessions. The speakers will deliver quality content that positively responds to issues prevalent within this generation; sharing resources, experience, testimonials & tools to educate. Developing young people to overcome their barriers, live a purpose filled life and become great contributors within society.
We hope the delegates will leave the conference with new tools, knowledge and insight of how they can improve, engage and empower the lives of Young people.
Who Should Attend?
· Young People - ages 14-35
· Community Youth Orgs Leaders
· School Leadership
· Youth leaders/Workers/Mentors
· Anyone Passionate About Empowering and Improving the Lives of Young people.
Event Details
Youth Ignite Empowerment Session
I'M-POSSIBLE
To Ignite, Invest & Inspire the aspirations of future Generational leaders
1st April 6:30pm - 8pm
Additional Empowerment Sessions:
Thursday's 6:30pm-8pm
22nd April
Registration Details: Register through Eventbrite to book a place then to join ZOOM click the Access the Event button.
For further information please email
lighthouse.youthignite@gmail.com or contact 07926840055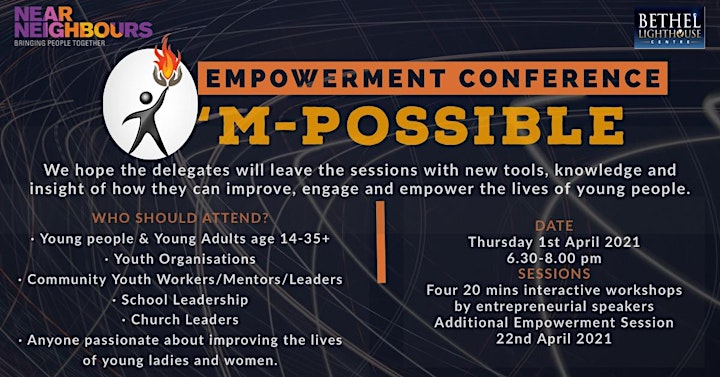 Empowerment Conference Schedule -
Thursday 1st April 6:30-8PM - ages 14-35+
7 interactive Empowerment sessions by Entrepreneurial speakers
Hezron Brown: 'My Story, My Process, My Success'
Ben Williams: 'Peer Pressure- Making Positive Choices'
Belinda Kaur: 'Social Media Revolution'
Errol Lawson: 'Staying committed to your Goals'
Latoya Palmer: 'Feel The Fear & Do it Anyway'
Fiona Conway: 'Cultivating a Confident Mindset'
Nathan Dennis: 'Chasing Purpose & Not Profit'
1st April:
• Melinda Williams 6:30-7:10pm 'Friendships' (Building Healthy Relationships)
• Ben Williams 7:15-7:50pm 'Peer Pressure' (Responsibility & Saying NO)
Entrepreneurial Speakers Information
Rev Raja Jag
Speaker & Youth Influencer
He is a highly effective coach, pastor, Youth influencer; he is passionate about engaging, inspiring & impacting the next generation. An effective speaker communicator; his radical messages have captured the hearts of thousands.
Instagram: rev_raja _ jag@rajajagcoaching
Nina Virk Director
Coach & Facilitator
A professional Life Coach, trainer who works with organisations and individuals from diverse backgrounds. She specialises in empowering adults and young people with tools to develop renew mindsets, build resilience and unlock their potential.
Web: www.keyimpact.co.uk
Nathan Dennis
Founder of First Class Foundation
An entrepreneurial leader, author, youth & community specialist consultant. The founder of First Class Legacy. He utilises his invaluable experiences to engage, educate, & impact young people & local communities.
Web: www.legacyconsultants.co.uk
Sandra Joseph
Trainer Author & Speaker
Founder of 2 Companies. She aims to encourage and enthuse positivity within the community, in particular women & girls. To build stronger TIES (Transform, Inspire, Empower, Support) to improve their own self-awareness, confidence, communication with others and relationships.
Web: sandra@clubladyday.co.uk; info@teengirlsnetworking.org.uk
Melinda Williams
Motivational Speaker & Youth Mentor
A workshop facilitator and speaker; utilising her turbulent life experiences and tools to uniquely connect, empower and impact lives. She is passionate in supporting the community & families. She currently mentors and coaches young people and others to improve their life chances.
Web: www.melindawilliamsministries.com
Fiona Conway
Counselling Psychology Graduate & Speaker
She enjoys participating in empowering events where others can be inspired by real-life experiences. She is an overcomer of identity and confidence issues. She aims to inspire young people & adults to believe in themselves and understand they have an innate strength to become overcomers.
Web: www.promisedidentity.co.uk
Errol Lawson
Motivational Speaker & Entrepreneur
Founder of Emerge Leadership UK, they provide leadership development, coaching and mentoring within education, private and public sectors. A motivational speaker who utilises his powerful story of overcoming gangs and drugs. An entrepreneur who engages, inspire & empower change in others.
Web:www.emerge-leadership.com
Merisha Stevenson
Strategist, Wealth Coach & Journalist
An Award-winning entrepreneur, strategist, risk specialist, broadcaster and wealth coach. She has over 20 years' experience as a business owner, developing business growth strategies for others and organisations. Her mantra is, 'Your Mind-Set is Your Economy'; she is committed to guiding young people to achieve wealth creation and develop strategies for Financial Freedom.
Website: https://merishastevenson.com Email: hello@merishastevenson.com
David Smith
School Principal & Speaker
Born and raised locally, he has worked within schools over the past 25 years. His educational career started as a mathematics teacher, transitioning to various roles as Head of Year, Deputy Headteacher and now Principal. He supports youth community projects and is passionate about the important role of Church of England schools in serving diverse communities.
Principal of Bluecoat Academy Walsall.
Web: www.bluecoatacademy.org
Benjamin Williams
Kicsters Youth Worker & Project Manager
Ben is passionate about youth work and has 7 years' experience in Walsall centre-based, detached and virtual youth work. He provides platforms to support and give young people a voice within their community. He enjoys utilising technology tools in how we can use digital technology and activities to engage, upskill young people.
Web: www.kicsters.co.uk
Belinda Kaur
Creative Consultant & Youth Speaker
Belinda is a Youth mentor, Social Media Strategist, Motivational Content Creator, Founder of BK Network and mental health board member. Belinda is passionate about supporting and developing others. She utilises her online platforms to create motivational content. She works with young people to support them in who they want to become. Belinda runs networking events to support young entrepreneurs within the West Midlands; to support them with their online brand & business.
Instagram: BELINDAKAURS
Hezron Brown
Mentor & speaker -Pride Of Britain Award- Young Achiever
Hezron Brown is the CEO of More Talk More Action. He won the Pride of Britain award in 2019, for his work as a reformed gang member; working with ex-offenders and young people who have found themselves either in or on the verge of criminal activity. He is a youth mentor and speaker; he has worked with over 50,000 young people and professionals across the UK.
Website - www.moretalkmoreaction.org.uk
Email - info@moretalkmoreaction.com
Latoya Palmer
Youth Entrepreneur & Motivational Speaker
A 20 year old entrepreneur, Speaker & choreographer. She is extremely dedicated about helping & empowering young people to chase their goals irrespective of their barriers or circumstances! Latoya believes it's this generation time to shine, achieve greatness & be successful. She is available to offer that helping hand and extra push. Latoya is also a Criminology & Psychology university student & enjoys motivational speaking to inspire the next generation!
Instagram: @AllureLuxe_Uk
Email Allureluxe0@gmail.com