Sales Have Ended
Registrations are closed
Ticket sales for this event are now closed
Sales Have Ended
Registrations are closed
Ticket sales for this event are now closed
Building Effective Mental Health Safety Nets in Schools: an Organizational Theory of Youth Suicide Clusters
About this event
Welcome to the third in our Suicide Cultures seminar series, hosted by Amy Chandler and Emily Yue with the help of Asia Podgorska. You can find out more about the project on our website https://www.ed.ac.uk/suicide-cultures.
We are pleased to invite you to our interdisciplinary seminar series on the multifaceted topic of "suicide".
On the 17th November 2.30pm we will be joined by Anna S. Mueller, Seth Abrutyn, and Sarah Diefendorf who will present their recent research: "Building Effective Mental Health Safety Nets in Schools: An Organizational Theory of Youth Suicide Clusters".
Despite decades of research, youth suicide remains difficult to understand and predict, and thus challenging to prevent. Drawing on the well-established literature on major industrial accident prevention – another notoriously difficult catastrophe to predict – and new data from an ethnography of suicide prevention in 4 schools in Colorado, we advance a new approach to understanding why youth suicide clusters form and persist. This approach recognizes the school as a formal organization facing competing demands, goals, and constituencies, all of which can compromise the school's ability to prevent suicide. We conclude (1) by setting a new agenda for research on suicide prevention in schools and (2) by offering new strategies to build effective school-based mental health safety systems.
Anna S. Mueller is a Luther Dana Waterman Associate Professor of Sociology. The primary strand of Mueller's research agenda examines how social relationships and social contexts shape adolescent health and wellbeing over the transition to adulthood, with a focus on adolescent suicidality.
Sarah Diefendorf is a visiting scholar at Indiana University. Working as a sociologist in health care, Sarah has a particular focus on religion, gender, sexuality, and rural health.
Seth Abrutyn is an Associate Professor of Sociology at the University of British Columbia whose theoretical interests lie at the intersections of many subfields including suicide/mental health, social psychology, emotions, cultural sociology, and organizations/institutions. His substantive interests center on youth suicide, and the why's and how's behind diffusion and clustering in schools and communities.
We look forward to welcoming you on the 17th November at 2.30pm.
---
Previous events:
19th August 3pm: Kelly Stewart "Challenging our well-rehearsed stories of suicide bereavement"
Kelly Stewart's lived experience of suicide bereavement underpins her work as a psychotherapist and her PhD research at the University of Edinburgh in the School of Health in Social Science. Her current research explores the intergenerational trauma of suicide in families, which builds on her published master's research on losing a mother to suicide.
Join our online seminar on 19th August to learn with PhD researcher Kelly Stewart as she invites us into the phenomenon of suicide running in families. We'll explore the role of shame, stigma and silence in shaping how we (don't) talk about suicide. In how we, perhaps, unknowingly reinforce the status quo of suicide running in families. We'll think through the complexities of this phenomenon and our need to challenge well-rehearsed stories of suicide bereavement.
On the 16th September at 4pm we were joined by Chris Dowrick on "Not choose not to be: the 'terrible sonnets of Gerard Manley Hopkins"
Christopher Dowrick is Emeritus Professor in the University of Liverpool and a general practitioner in Aintree Park Group Practice, Liverpool. He is also Chair of the World Organisation of Family Doctors (WONCA) working party for mental health. His research portfolio covers common mental health problems in primary care, with a focus on depression and medically unexplained symptoms, and the needs of people from marginalised communities. He has published five books and over 250 research papers. He is currently writing a book exploring the ways in which literary reading can enable people considering suicide to stay alive.
Created during a deeply unhappy period of Hopkins' life, these six poems arise from 'a languishment of body and mind'. Yet they also give readers, including Christopher and his patient Frances, glimpses of Hopkins' unimpeachable honesty, of the legitimacy of distress, and a sense of connection, of shared experience. They encourage us to observe our emotions rather than be overwhelmed by them, enable our determination to survive come what may, and the flowering of self-compassion.
PRIVACY STATEMENT
Information about you: how we use it and with whom we share it
We will use your personal data to allow us to process your registration, communicate with you and obtain your feedback about the event. We are processing the information about you for these purposes because by registering for the conference, you are entering into an contractual agreement for us to do so.
In order to facilitate online bookings for our events, we use EventBrite - a third party service which is not operated by the University of Edinburgh.
If you wish to attend an event organised by suicide culture Project but do not wish to use your personal data for communication please email us at:
Suicidecultures@ed.ac.uk
If you have given us your permission, we will share your name, affiliation and contact details with the other participants in the delegate list We will not share information about you with any other third party.
After the event, we will send you a survey as it is our legitimate interest to help us improve any future events we organise.
We will hold the personal data you provided us for 6 months. If you have agreed to be contacted about future events, we will hold your personal data for as long as you subscribe to these updates. Financial data such as a payment record will be held for 7 years, but we will ensure that all information that can identify you directly is removed after 6 months.
We do not use profiling or automated decision-making processes.
If you have any questions, please contact Asia Podgorska Suicidecultures@ed.ac.uk
This Privacy Statement is continued at:
www.edin.ac/privacy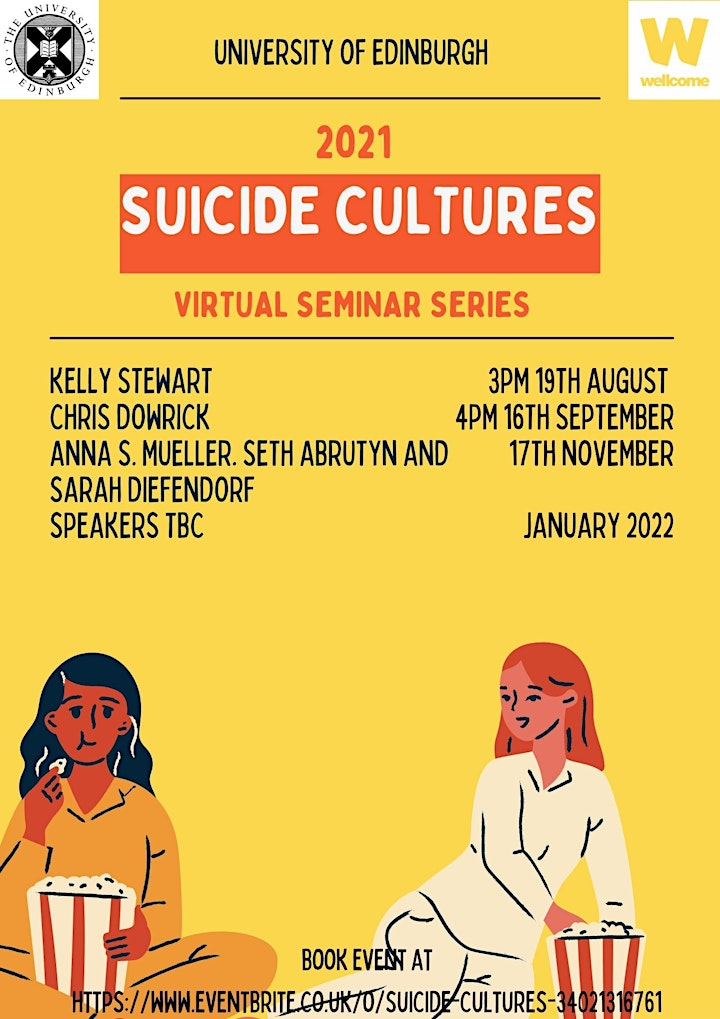 Organiser of Youth Suicide: Building Effective Mental Health Safety Nets in Schools