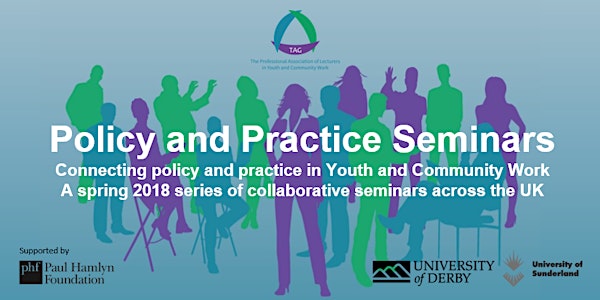 Youth Work and Inter-Professional Practice (Derby)
Location
University of Derby
Kedleston Road
Derby
DE22 1GB
United Kingdom
Description
The Professional Association of Lecturers in Youth and Community Work is funding a series of free national, collaborative 'Policy and Practice' seminars around the UK. The aim of these seminars is to foster greater levels of collaboration between higher education institutions and practice agencies in the profiling of challenges and opportunities facing youth and community work policy and practice across the UK.
This Seminar Title:
'Youth Work and Inter-Professional Practice: building foundations for connected practice'
Hosted by the University of Derby, and co-designed with the University of Sunderland, this event will include representation from practice agencies from across the region including the D2N2 Youth Work Alliance; students on youth work courses from both University partners; and academic colleagues.
This Seminar Brief:
The purpose of this seminar is to progress a conversation about the role of youth work in building connectivity between professional services that engage with young people. Among the many services available to young people, youth workers offer a distinct contribution to young people across community services. However, misinformation, misunderstanding and mistrust continues to exist between professionals that share the same goals for young people's wellbeing. Consequently, there is a necessity for youth workers to engage in inter-professional communities of practice, supporting the work of (and recognising the challenges faced by) fellow professionals, while maintaining the principles and practices of professional youth work. This seminar will enable a day of discussion, debate and reflection on the key issues related to inter-professional practice with goal of identifying concrete actions that will inform future practice. The day will be facilitated by stakeholders from the D2N2 Youth Work Alliance and students from the University of Sunderland and University of Derby.
A copy of the programme for the day is available via this link
Who should participate?
We invite participation from practitioners, academics, researchers, agencies, policy-makers and activists from across the region who share a concern for the wellbeing of young people and communities. The seminar will include opportunities for participation and networking with a view to extending partnerships between academia and practice agencies.
How do I book?
Click on the green 'register' button to reserve your free space (which will include refreshments; and catering where a seminar includes a typical meal-time). Please select the booking category that best fits your status and you will be emailed a confirmation 'ticket'. Further updates and information will follow as the event draws nearer with final joining details and a full programme emailed a week in advance of the seminar date.
What other seminars are taking place?
This seminar is one of ten free 'Policy and Practice' seminars taking place around the UK - each with a unique theme and approach - and you can view the full list of events via this link.

*The Professional Association is grateful to the Paul Hamlyn Foundation for a grant that allows us to offer these seminars as free events to all participants. More information on the grant making activities of the Paul Hamlyn Foundation Youth Fund are available on their website via this link.