British Sociological Association Youth Study Group Seminar Series Event
About this event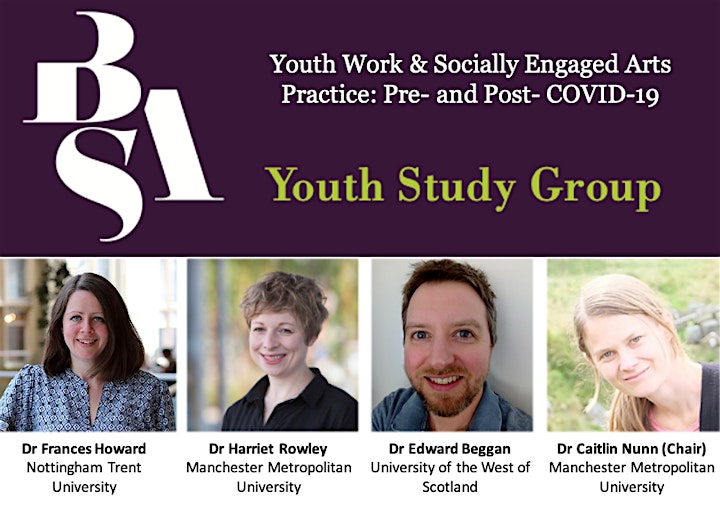 Youth Work and Socially Engaged Arts Practice: pre- and post- COVID-19.
Thursday June 4th, 10am-11:30am BST
Often positioned as natural allies, but uneasy bedfellows (Howard, Brocken & Sim 2018), youth work and the arts represent opportunities for young people to be creative, critical and constructive. Pre-COVID-19, partnerships between arts institutions and youth work provisions, as well as those between freelance creatives, and grassroots community arts, were increasingly popular. On the one hand, there was pressure to make the arts more accessible, especially those from marginalised groups (Culture White Paper, 2016) whilst on the other hand, youth work has undergone successive funding cuts and ideological attacks but is rich in social capital and adept at engaging marginalised young people. The need for democratisation of the arts (the idea that access to arts and culture can enrich life) can be partly explained by both shared philanthropic traditions but also more radical community development traditions concerned with cultural democracy (Sim, 2019). In this sense, partnerships between both sectors were favourable on an instrumental level but also ideologically due to a shared concern about growing inequality and the health of democratic systems. Post-COVID-19, these concerns seem ever more pressing.
In this online presentation hosted by the BSA Youth Study Group, the first two papers will consider research that was carried out before the pandemic. Dr Edward Beggan (UWS) recounts findings from his research on the kind of environments and learning processes the creative arts promotes for youth work; followed by Dr Frances Howard's (NTU) exploration of the affordances of music in particular for marginalised youth. Finally, Dr Harriet Rowley (MMU) discusses the implications for research of the post-COVID-19 environment where the arts and youth intersect. The presentations will be followed by a discussion chaired by Dr Caitlin Nunn (MMU) where we will invite attendees to share their thoughts and questions for the panel.
===
Dr Frances Howard is a Lecturer in Youth Studies at Nottingham Trent University. She has recently finished a PhD exploring young people's experience of the Arts Award with Youth and Alternative Education programmes. Frances has previously worked in local authorities, arts education and youth work. She also undertakes evaluation and research for arts, youth and community projects and her research interests include youth arts programmes, family festivals and informal music-making.
Dr Harriet Rowley is a Senior Lecturer in Education at Manchester Metropolitan University. Harriet has research expertise in participatory, ethnographic and arts-based methods. She is interested in socially engaged art, youth work and community development with a specific focus on youth cultural, political and civic participation.
Dr Edward Beggan is a lecturer in Community Education at The University of the West of Scotland. His interests in Youth Work and Youth Studies focus on Creative Arts Youth Work environments and their potential for fostering youth voice and autonomy. Developed within the frame of critical pedagogy Edward's research offers insight into alternative educational methods within Community Learning and Development.
Dr Caitlin Nunn is a Research Fellow at the Manchester Centre for Youth Studies at Manchester Metropolitan University. Her research is located at the intersection of Refugee Studies and Youth Studies, focusing on the lived experiences of refugee-background young people in the United Kingdom and Australia. Much of her research is produced in collaboration with young people, youth-engaged organisations, and artists, using participatory and arts-based approaches.