Yummy Mummy and Baby Extravaganza - Ealing (6th September)

Saturday, 6 September 2014 from 12:30 to 16:30 (BST)
Event Details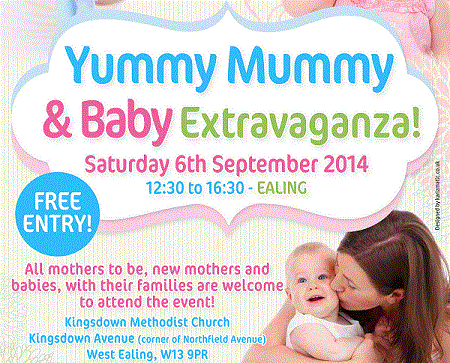 Yummy Mummy and Baby Extravaganza is an event is for professionals who work with women looking to get pregnant, expectant mothers, new mothers and children up to the age of 5 years.
For these professionals and businesses, we have 18 stalls available for hire and we will have only ONE person / business category. This will be strictly on first come, first served basis.
As we are promoting local business, ideally all stall holders will be from Ealing Borough and surrounding areas. To enquire about stall hires, please email events@prosperityevents.co.uk
All mothers to be, new mothers and babies, with their families are welcome to attend this event. The event is open to public and is free to attend.
Our exhibitors so far:
Birth ROCKS & Baby ROCKS: Bespoke birth preparation, birth hypnosis and parent craft courses for women and birth partners. Courses are individually tailored to provide you with the knowledge and techniques YOU need – no 'One Size Fits All' methods!  Approach pregnancy, birth and beyond with positivity and confidence, and feel empowered to relax, cope and make informed choices for you and your new family.
Collagen Colway UK: Collagen Colway doesn't just tackle the results of ageing, such as wrinkling; it attacks the causes. No wonder, then, that it has been known for several years as the Polish 'elixir of youth'. It's the only pure and biologically active transdermal triple helix tropocollagen on the market, which means there's nothing else currently available that can compete with its potential and results.
Sukhi Bhogal: Nikken natural health technologies use energised ph balanced water, ionisation,  the earth's magnetic field and the sun's far-infrared energies to  help your body restore and heal itself. 
Kiddicor little more accessory: Stylish and unique DIY wall sticker lamps , DIY wall sticker clocks, DIY wall sticker hooks, DIY wall sticker light control night light. A style statement for every kid's home, nursery and school.
Jordan Matthews of Arbonne UK: Sensitive skin — at five months or 55 years — requires special skin care. Pampering delicate baby and extra sensitive adult skin is as elementary as ABC: Arbonne Baby Care. From hair and body wash, to nappy cream and sunscreen, Arbonne Baby Care has every inch of sensitive skin covered. For fundamental, sensitive skin care needs, just remember your ABCs: Five products that soothe, moisturise and protect skin from the natural elements ... from the day life begins.
Sylvie Croslard of The Pampered Chef:The premier direct seller of essential kitchen tools, and has been helping families prepare quick, delicious meals since 1999. They believe that multi-purpose tools are the cornerstone of an efficient kitchen. Their products are designed to be used in more than one way, so kitchens are no longer cluttered with rarely used utensils. 
A partnership of two Ealing based companies, Body Mechanics and Holland Wellbeing, bringing Mums a comprehensive package of bodywork, fitness services and body care products. Suitable for ante-, post-natal and Mums with kids of all ages.
West London Waste Authority: Working with 6 boroughs within West London to reduce the amount of waste. They will be sharing information with tips and ideas on how to make food last longer and show parents the benefits of washable nappies. 
Jo Thorp & Sam Shafique Iqbal: Forever Living Products. A balanced lifestyle combined with the purity of Forever's aloe vera products will provide optimum health and vitality for that ultimate sense of wellbeing. We offer skincare, personal care, vitamins and supplements and items for the home
Dia K Photography: Specialising in authentic family portraits. Their approach is relaxed, encouraging the children to be themselves not just posed,.They also do family portraits as part of the new born package.
Pelfix:  offers a solution for protecting and maintaining the health of the pelvic organs as well as exercising the pelvic floor muscles. Complete Pelvic Floor Education Programme for Men and Women
Ealing NCT Branch: National Childbirth Trust – Helping Parents During the First 1000 Days of their child's life
Rebalancing Life: All the therapies she offers bring balance to the body and mind. She will be at the event to share with you how homeopathy, reflexology and chakra balancing can help with fertility, pregnancy, and the early years.
Evolution for Women: Specialise in providing financial advice to females, however this does extend to their partners. They are whole of market, female financial planners who pride themselves in providing their clients with a quality service.
Re Fab:  SFX Face and body artist - offering a unique experience, face and body painting with a difference.  If you have a lovely baby bump and would like her to paint your tummy with a painting of your choice then have a chat with her. She also does children's face painting and balloon modelling (will be bringing balloons at the event)
Crystal Harmony: Here you will find a magical selection of Crystals & Angels. Crystals promote spiritual & emotional wellbeing - Relaxation & Peace!
When & Where

Kingsdown Methodist Church
Kingsdown Avenue
(corner of Northfield Avenue)
W13 9PR West Ealing
United Kingdom


Saturday, 6 September 2014 from 12:30 to 16:30 (BST)
Add to my calendar
Organiser
BizHelp events are business support and are business support and networking sessions for local SMEs and micro businesses. We will have a number business service and advice providers to work with us and a number of speakers who will offer talks on various subjects that business owners will be interested in and would benefit from.
At every meeting all members in the group will have an opportunity to present their business to others with a 90 seconds introduction and members can also request to have a speaker slot opportunity at future networking events.      
Having run a number businesses in the last 15 years and working with various industries we have launched this venture to support local businesses to promote themselves using online strategies and offline events, fairs and exhibitions.
We are very passionate about keeping business local and helping local business owners raise their profile and exhibit their expertise by showcasing their products and services at our themed events.
We are creating local  networking events, exhibitions for local businesses in the local communities within London and the surrounding areas.