ZAP Open 2012

Monday, 24 September 2012 at 07:00

-

Tuesday, 25 September 2012 at 00:05 (BST)
Event Details
ZEITGEIST OPEN 2012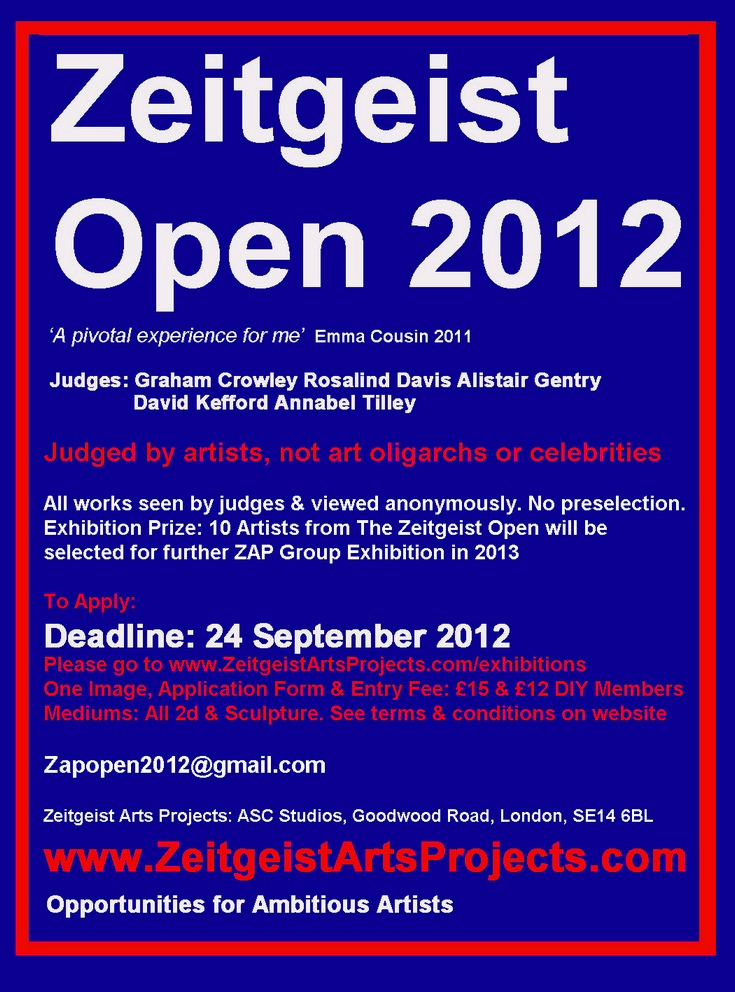 Zeitgeist Open Submission Exhibition 2012
Application, General Terms & Conditions & FAQ's
http://www.zeitgeistartsprojects.com/exhibitions.html

Deadline: Monday 24th September 2012. Midnight GMT
This shows as 25th September on the ticket sales- as Midnight on the 24th September is technically 25th September. Yes , we know its confusing- blame Eventbrite.
Open Testimonials from artists selected for the Core Gallery Open 2010 & 2011- now the Zeitgeist Open below and images here 
"The Core Gallery Open 2011 was a pivotal experience for me and the seed for vital progress in my practise." Emma Cousin
"The Core Gallery Open provided a chance to learn more about the gallery's educational program, as well as a good opportunity to form relationships with the other artists and the gallery curators." Freya Douglas-Morris
"Core Gallery Open was a great opportunity to show some new work amongst a very carefully selected group of artists. The show was wonderfully curated and I was extremely pleased to show alongside such a diverse range of established and emerging talent." EJ Major
The benefit of showing work in exhibitions such as the Core open is that my work is exposed to a new audience, many of whom may not have previously been aware of my practice. Since Core ( now ZAP) ) is artist led, the resulting opportunity to gain critical feedback and network with other artists was particularly welcome and is especially important when one lives outside of London. Iain Andrews
"It can be difficult to find an Open which offers more that a patch of wall, a large application fee and little to no critical feedback - even if you are accepted.  Working with Core Gallery gave me a huge boost both in professional confidence and critical ability. Thanks to the Core Open 2010, I was invited to participate in Extra-ordinary with Marion Michell and Alyson Helyer, (a subsequent exhibition at Core Gallery working with curators Rosalind Davis and Jane Boyer) where I was able to establish links with organised art professionals (who discussed the work), judges who cared and wonderful artists of a level to which I aspired." Tom Butler.
 "I was delighted to have one of my photographs chosen by a panel of respected London art world selectors for the Core Open 2011. Being part of the final show was a great experience. It was beautifully and thoughtfully curated.  An added benefit was the inclusion of my work in a catalogue produced for the Open, which again was thoughtfully put together with essays. Compared to other open shows this presented added value (and no hidden 'hanging/publicity' costs which some opens have!)"  Carolyn Lefley.

Being included Core Open in 2010 was a positive experience; a well curated and organised show with a good calibre of selectors. I was able to show  my work to new audiences as well as having new artists introduced to me. I have maintained connections with people I met and have had further shows with those connections, whilst one of the selectors eventually bought a piece from my studio. Being artist-run meant that the Core Open was organised with the understanding of how such open submissions are important for upcoming artists. Simon Leahy-Clark
In 2010 I applied for Core Gallery Open in Deptford and had two pieces accepted. The private view was glorious – a selection of high quality work - paintings, exquisite drawings, collages, sculpture, crochet - beautifully presented. Great news came later-on that evening, when my name was called out with those of two other artists, Aly Helyer and Tom Butler, and we were offered a three person-show in 2011 at Core Gallery! 
Extra-Ordinary to me is still the best and most exciting exhibition I've been involved in. Thoughtfully curated by Rosalind Davis and Jane Boyer this coming together of three artists who in their very different media share sensibilities (an interest in what lies behind the surface, what creeps out from the unconscious) made for a coherent and challenging, vibrant show. But that's not all. I learned so much as we were involved all round, from selection of work to input into press-releases, interviews, artists' talks… And the relationship forged with Rosalind Davis, who has teamed up with Annabel Tilley to form Zeitgeist Art Projects, has been invaluable, consistent, and mutually supportive.
There's a proliferation of open exhibitions with rather high entry fees, and as I haven't got a lot of money, I choose carefully. The jury is important, and I tend to apply for opportunities in London, where I live, so I can participate as much as possible. This investment was a good one, not least because it led towards other opportunities. And otherwise I might not have known about DIY-Educate. The gift that keeps on giving! Marion Michell
Being selected for Core Open 2011 has marked the beginning of joining an exciting network of artists and curators. In addition to the exhibition, what I've particularly valued is the ongoing dialogue, which has been supported by the enthusiasm and generosity of the organisers.
Clare Mitten, July 2012
When & Where
Bond House
Goodwood Rd
SE14 6BL London
United Kingdom


Monday, 24 September 2012 at 07:00

-

Tuesday, 25 September 2012 at 00:05 (BST)
Add to my calendar
Organiser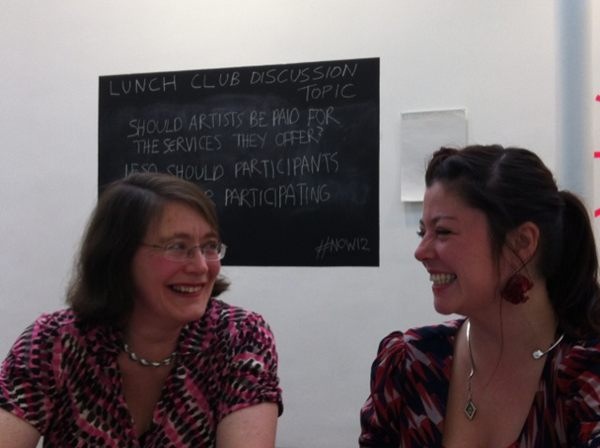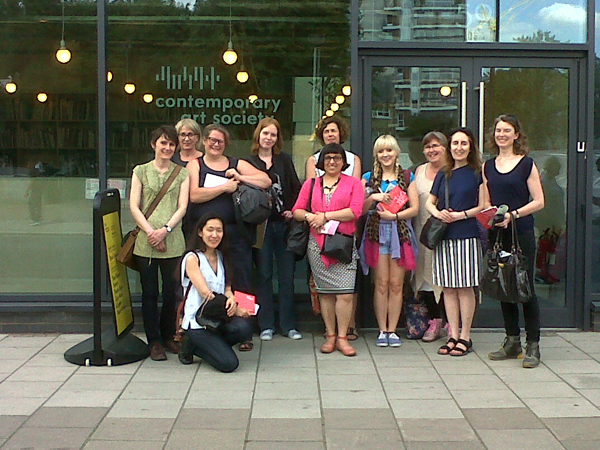 Zeitgeist Arts Projects was founded in 2012 by artists Rosalind Davis and Annabel Tilley and is based in New Cross, London. They create support systems to enable artists to realise their creative potential, to continue to learn, exchange dialogue, develop networks and collaborate, framed around their wide ranging activities as well as exhibitions. Their annual events programme includes talks, seminars, art tours, peer critique, tutorials and workshops that encourage artists to learn from other artists, engage, thrive and raise their profiles.
ZAP is also a Membership body for Artists,if you join as a member you will have the opportunity to join up for exhibition & networking events, peer reviews, discounts on professional development workshops, semainars, art tours & talks. See more here. http://www.zeitgeistartsprojects.com/diy-membership.html
Guest artists for their programme have included: Graham Crowley, Justin Hibbs, Mark Titchner, Susan Collis, Phoebe Unwin, Virginia Verran, Freddie Robins, Delaine Le Bas and Transition Gallery. Their pioneering talk: The A-Z of Surviving as an Artist has toured the country and is informed by Tilley and Davis' two different experiences of the art world. The talk has been hosted by galleries such as De La Warr Pavilion and FirstSite, the Whitstable Biennale and a host of artist organisations and universities across the country.