Event Information
Location
Private House
Radlett
WD7
United Kingdom
Description
Join us on the 3rd September, for what promises to be, THE most extravagant and spectacular Zara DuRose party yet!
Join the Cabaret Of Excess - An incredibly decadent, 12 hour long, end of summer ball!
Our stunning showgirls will greet you at the door & you'll step into a world of debauchery and glamour.
We have secured a beautiful private house on the outskirts of London, complete with bar area, dance floor, 3 themed rooms, dungeon equipment, cloakroom, a hot tub, beautiful outdoor grounds, and even a completely separate Tropicana area by our large covered & heated pool!
The event will run from 7pm to 7am, and as soon as the party begins we will be serving all guests beautifully hand crafted canapes & give you the chance to explore our amazing venue and settle in with a welcome drink.


So whats on offer?
A free welcome drink for all guests!
Canapés from 7-9pm & A deliciously naughty sweet treat at 12am!
Live music from a world class singer, DJ's & dance floor (a mixture of swing, electro, dance, house, techno & of course cabaret themed music).
Walkabout perfomances & stage shows.
Meet & greet between 7 & 10pm for event newbies.
A beautiful setting to enjoy.
Cocktails & full bar area.
Separate Tropicana area at the pool, including mermaids, music & punch!
Themed areas; Darkroom with a huge bed, Moroccan themed dungeon/playroom & adult room with projection screen.
Indoor shower & toilet facilities.
Large indoor pool area & hot tub.
VIP Packages available.
Luxury Dungeon equipment supplied by Sweet Torments & Erotic Artisan
A friendly environment to play, talk, dance & make new connections.
So, what are you waiting for? Join us to end the summer season with a bang & with a night to remember!


Over the next few weeks, I will be announcing our performer information, keep an eye on here and our facebook event page to keep up to date.
Our Early Bird tickets sold out within 6 hours of being released! All of the events we have run since last year have been incredibly successful & sold out and we anticipate this one to do the same. This is certainly a step up from what we have done before & we're all incredibly excited already!
To keep in tradition with our previous kinky parties, the theme for this event is CABARET!
Think showgirls, feathers, roaring 20's, flapper girls, suits & hats, red & black, as well as all other fetish attire! As always, dress to impress is vital.
The venue is in Radlett, which is less than 25 minutes from London St Pancras station. From there, we are exactly ONE MILE from the train station. There is a 24 hour taxi rank there too, on 01923 494949
There is also ample, secure parking for 15+ cars for those who wish to drive.
Details of the trains running to and from London will be posted below in the FAQ area & on our facebook pages, so you can see how easy we are to reach and plan your journey in advance.
Links to local hotels can also be provided on request.
The exact address of the location will be sent out to all TICKET HOLDERS well in advance. Last entry to the event is 12am! After 12, the gates to the property will be closed.
Tickets are strictly limited to 180 & there will be NO tickets available on the door. This is an advance ticket only event.
---
VIP Packages
We now have brand new VIP Packages available, for those of you who want to enjoy the event with a bit of extra sparkle!
These are strictly limited to 20! So be sure to purchase your add on before they're all gone!
What does it include you say?*
- A chilled bottle of Prosecco for you to enjoy whenever you like during the evening.
- A bowl of fresh strawberries & cream for a sweet treat during the night.
- Free cloakroom use for your coat & bag.
- Towel provided to use for the pool & hot tub areas.
All this for £30 - Simply purchase the VIP add on ticket along with your ticket purchase & show to our showgirls on arrival.
*VIP Tickets are charged Per Person & includes ONE of each thing listed. Must be purchased in advance. Not available on the door or during the event.
---
NEW - Meet & Greet
- Have you always wanted to go to a fetish party but somethings holding you back?
- Thinking about coming but afraid to take the plunge?
- Always wanted to go, but never had a friendly face to meet you there?
- Afraid you don't know the rules of such parties?
The answer is here!
From 7-10pm our friendly house showgirls will be on hand to give you a guided tour of our fantastic new venue. It's the perfect time to say hello to other 'newbies' and introduce yourself over your welcome drinks & canapés.
It's also a chance to understand the etiquette of how our nights run & find out what each of our themed rooms will entail.
To book this experience, simply add the FREE Tour ticket along WITH your ticket purchase* and show it on arrival. From there you'll be in good hands & we'll show you the ropes, so to speak! ;-)
As always, if you have any questions beforehand about the event, I'm contactable on here & on the Facebook & Fetlife event pages.
We look forward to welcoming you to our event with a smile!
*Entrance ticket MUST be purchased as well. If you arrive with just the tour ticket, you will be turned away. There are no sales on the door. The address of the event will not be send to free ticket holders.

---
Performances
Beverley Jane

She will be singing for us from 11:30pm on the 3rd September, be sure to arrive early - this is something NOT to miss!

"Beverley Jane is a world class international recording artist. She worked for 8 years alongside a famous international DJ/Producer, as vocalist NYAH, travelling the world, and featuring on many hit dance tracks.

In her own right Beverley, signed to Universal Germany, released her own album under the name "Miss Kookie", enjoying chart success in Germany and Europe. The "Miss Kookie show" has toured Europe's best, and most popular, burlesque and Cabaret clubs."

http://www.misskookiebeverleyjane.com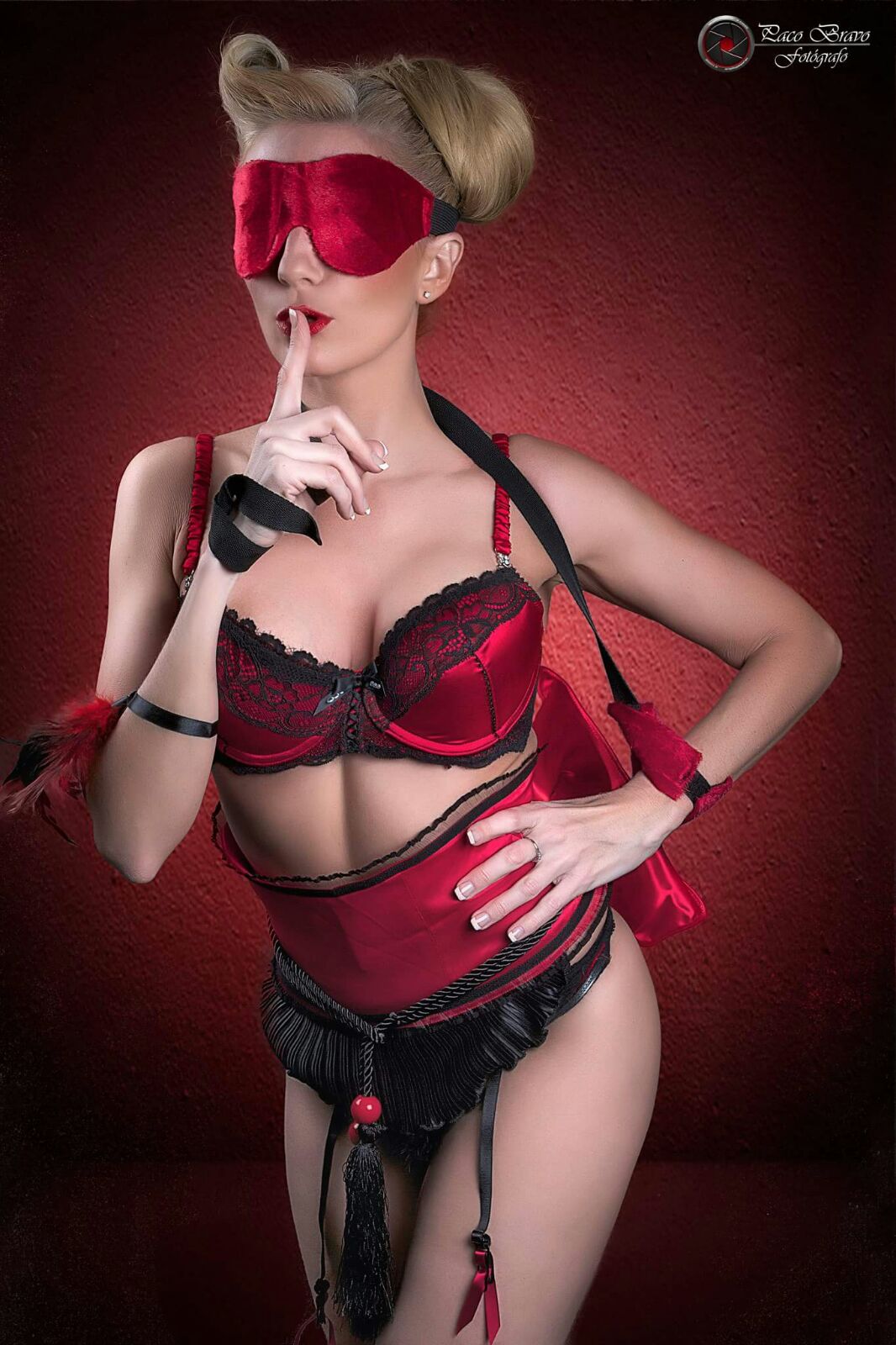 Bambi Blue

Bambi Blue will set alight to your hearts with her vaudevillian sideshow skills and hollyweird aesthetic.

Looking like a Disney princess Walt drew whilst high, she is a fire cracker on the cabaret scene who will leave a mark of red glittery lipstick on every stage she kisses!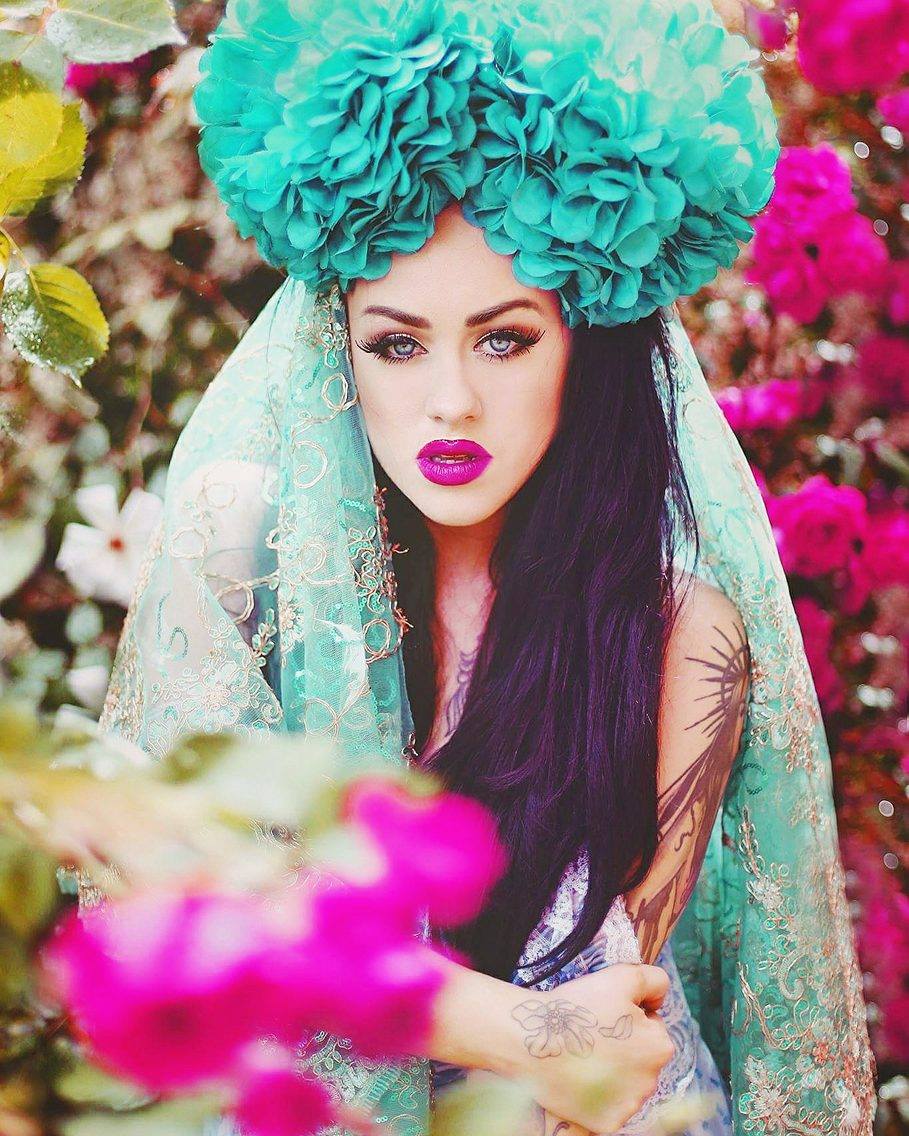 Raven Lenore
The gorgeous Raven Lenore will have you gazing in awe!
She is an international performer, burlesque dancer and published model. Trained in classical ballet she brings poise and grace to her all her performances, bringing alive the dance element in tease.
Raven will be performing her sexy, cheeky, extremely glamourous Showgirl act for us on September 3rd!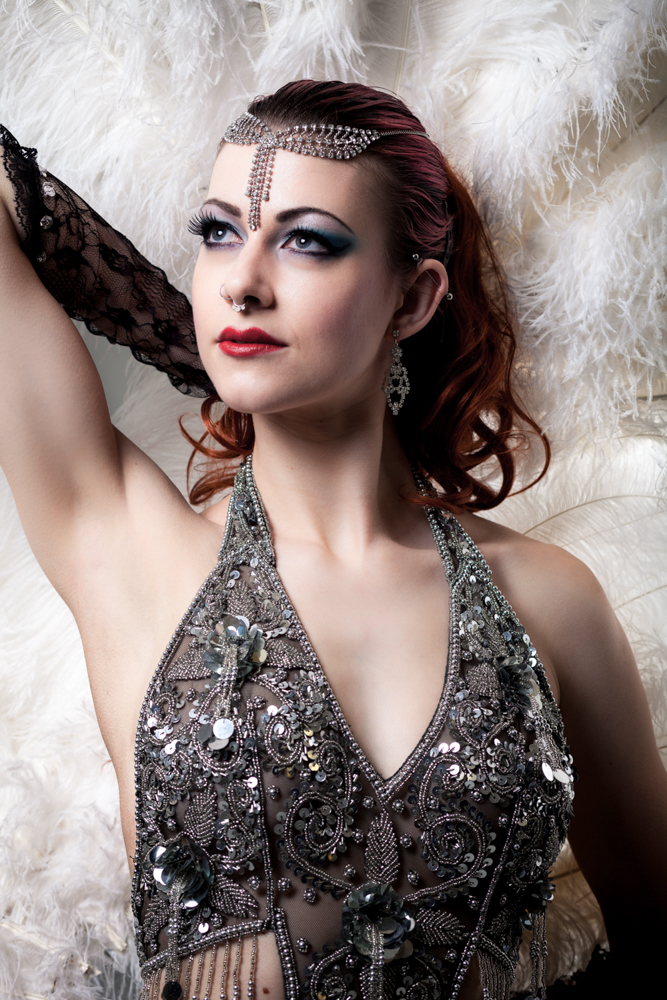 The Dress UP Dolls
I'm pleased to welcome back the amazingly sexy DressUpDolls, this time they will be our Sexy Showgirls!
They make regular appearances at clubs such as Imaginarium & Proud Camden & I can't wait to see what they put together for this event!
Here's a photo by Marcus T from when they appeared as Ice Fawns at my November 2015 event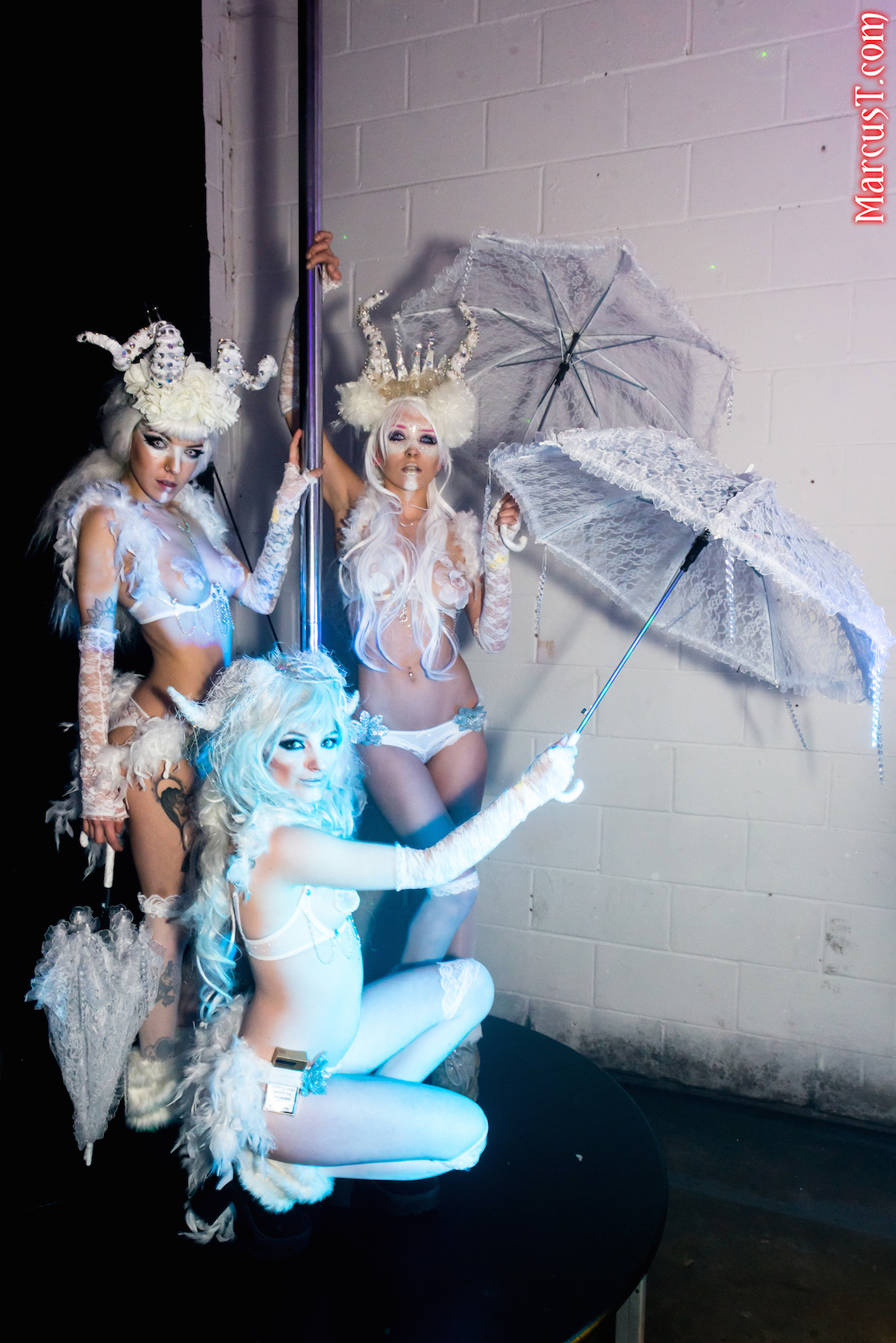 The Siren Squad
Three gorgeous mermaid creatures will be joining us in the Tropical pool area for the evening!
"Whether we are adorned in pearls, fan and fire dancing in a giant seashell, or swimming with sparkly tails under the water- the Siren Squad is a magical mythical gang of mermaids that spread wonder and excitement at any event"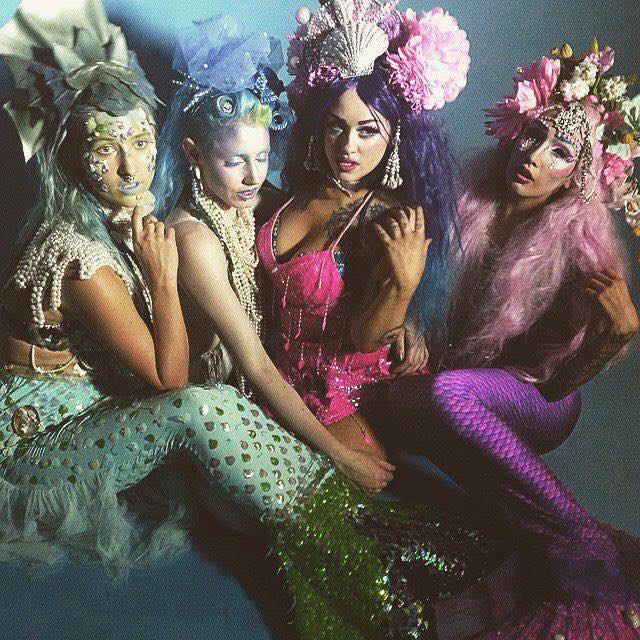 Goddess Cleo

I'm pleased to announce that the beautiful Goddess Cleo will be joining us for the evening & showing off her rope skills!
"I enjoy what I do, and take great delight in playing with respectful fetishists, masochists, submissives, slaves, and bottoms. You should feel confident to acknowledge your innermost fantasies in a safe, relaxed, elegant atmosphere."

Our dungeon equipment will be supplied by Sweet Torments & will include; A full suspension cube, St Andrews Cross & numerous bondage benches.
We also have beautiful wooden kit from Erotic Artisan on hand throughout the venue so you can all get your kink on!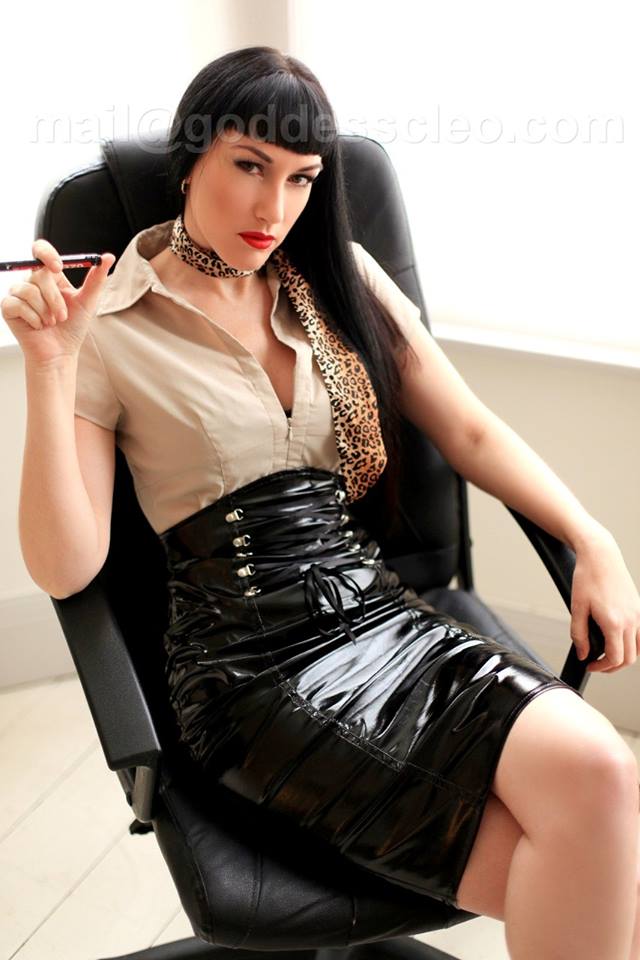 ---
DJ's
Rockit Riyad:
Specialising in Hip Hop, Electro, House and Dubstep, he believes dancing is the strongest aphrodisiac there is, and loves playing naughty music for naughty people!
He has more energy than a Duracell Bunnny & always has his crowds partying that little bit harder than most, along with a cunning knack of keeping everyone dancing until the bitter end of his set.
https://www.mixcloud.com/DJRockitRiyad/
Don Capello has played at numerous London fetish events, including Decadence TG & more & will be in the Tropicana area warming us up for the evening.
https://www.mixcloud.com/doncapello/
DJ Jamie Moon
DJ Jamie Moon has been supplying scintillating soundtracks for seminal shindigs, capital cabaret and an assortment of agreeable alternative events since 2009. He will be playing the main set in the Tropical area for us during the night.
Playing to a range of styles/genres, from vintage swing to deep house, but happiest when the canvas is blank allowing for a rich, eclectic soup of a soundtrack to the best house party you've heard…
He has played at many events & venues such as: Torture Garden, Killing Kittens, Club Pedestal, Playboy, Cafe De Paris, Pacha & many more!
Soundcloud: https://soundcloud.com/dj-jamie-moon
Ame will be in the main room.
https://www.mixcloud.com/apokalipsa-siedem/electrocute/
Residents: DJ Heathen & DJ Manga
https://www.mixcloud.com/Dj_Heathen/
---
FAQs
Tickets
NO tickets will be available on the door, anyone arriving without a ticket will be turned away.
They will be on sale until 5pm on the 3rd September. A final email will be sent out at this time confirming the address details once again.
VIP Packages must be purchased in advance & will NOT be available on the door or once the event begins.
FREE Tour tickets must be purchased in advance & shown to our door girls on arrival. The meet & greet is only available from 7-10pm.
Can I resell my ticket If I can't make it anymore?
If you can no longer attend the event & wish to sell your ticket, this IS possible.
It is best to contact us directly, so we can change the name on the ticket for the new attendees. This will hopefully avoid any unfortunate cases of ticket fraud.
We use a scanning system for the tickets, so each person gets checked in electroncically. This means each ticket can only be used ONCE.
In the unlikely event you have purchased a ticket from someone which has already been used/checked in, we are not responsible for issuing refunds and you will not be granted entry to the event.
Opening times
The event runs from 7pm - 7am and last entry to the club is strictly 12am!!
After this, the gates will close and anyone arriving late will be refused entry with no refund.
Dress Code
As always, dress to impress is vital.
We love having an environment where everyone has made an effort to get dressed up for an evening of fun. The theme is Cabaret, ideas for this can be found above. Latex, leather, suits, corsets, and fetish attire are all welcome!
Strictly NO Jeans & Trainers!
If you're unsure about your outfit, feel free to contact us before the 3rd September to check.
Are there ID requirements or an age limit to enter the event?
Yes, this is a strictly over 18's event. ID may be required if you look under 25. If in doubt, PLEASE bring ID. If you are lucky enough to look under 25 but don't have any ID, you WILL be refused entry with no refund.
What are my transport/parking options getting to the event?
There are regular trains that run from London St Pancras, which takes less than 25 minutes to Radlett station.
Our venue is exactly ONE MILE from the station with a 24 hour taxi rank. Herts Cars: 01923 494949
The exact address will be sent out to all ticket holders well in advance & a final email sent at 5pm on the day of the event.
There is also ample off road, secure parking for 15+ cars.
Trains to and from London
Trains to and from London are very regular during the evenings, running every 20/30 minutes. Here are a couple of options;
London St Pancras Int
The last trains from St Pancras to Radlett to arrive before our doors close are at 22:48 arriving at 23:15 & then 23:18 arriving at 23:44.
The first train from Radlett in the morning back to St Pancras is at 00:24 for those who need to leave early, the next is 06:13 & then they run every 20-30 minutes.
London Blackfriars
The last trains from London Blackfriars to Radlett to arrive before our doors close are 22:38 arriving at 23:15 & then 23:08 arriving at 23:44.
The first trains from Radlett in the morning to London Blackfriars are at 00:24 for those who need to leave early, the next train is at 06:31 & then runs every 30 minutes.
All journeys listes are DIRECT trains.
Regular services also run from Luton & Gatwick.
Another option is sharing an Uber, in the past we have used this with friends coming home from London to Bedford & it works out between £10 & £25 each, depending on where you go in London.
What can/can't I bring to the event?
Bringing in cameras and your own alcohol are prohibited.
Bags/Cases are OK - We have a cloak room/changing area for guests who wish to change into thier ourfits on arrival and leave their bags somewhere safe for the night.
Bringing your own toys is encouraged, so floggers, whips, restraints. But please no WAX PLAY.
Where can I contact the organiser with any questions?
The Contact tab here on Eventbrite, info@ZaraDuRose.com - or via our facebook event page.
Date and Time
Location
Private House
Radlett
WD7
United Kingdom