About this Event
Jade Solutions invite you to the Zebra Experience Centre for a day filled with knowledge sharing, networking and to meet leading industry professionals. Leading technology specialists Zebra, Infovista and Jade Solutions provide you with the opportunity to learn more.
Discover solutions that can help your business improve productivity and generate higher revenues. Visit the ZEC where technology is brought to life. This is an opportunity not to be missed.
Agenda:
10.00am - Arrive – Coffee
10.30am - 12.30pm - Our presentations will be covering the below:
• Workforce Connect
• Zebra Location Services
• Infovista
• ZEC tour
12.30pm – 2.00pm - Lunch and networking

About the topics:
Workforce Connect
Discover Workforce Connect, the easy way to marry all of your voice and data communications into one multi-functional mobile computer that allows your workers to do it all:
• Access information in your line-of-business applications
• Take voice telephony calls
• Instantly reach a co-worker
Manage a team located across the country or around the world with:
• Robust push-to-talk
• Plus text messaging
The result is streamlined workflows – no more time spent juggling devices. Your workforce is finally one. One team that is seamlessly connected, able to act with amazing efficiency and effectiveness – and take your customer service quality to a whole new level.
Zebra Location Services
Explore Zebra's enabling technologies - including RFID and RTLS - illuminate the daily events involving your assets, people and actions. You know in real-time the location, condition, timing, accuracy and speed of the events occurring throughout your operations. Use this knowledge to gain insights that inspire innovation. Zebra offers enabling technologies that illuminate the daily events occurring throughout your operations involving your assets, people and actions.
Infovista
Managing the performance of modern networks and the vital applications that run on them has become extremely complicated. A digital matrix, it's easy for operators to get lost and businesses left behind. Enterprises and network operators require a level of guidance precious few technology partners possess.
Infovista's expertise in data and analytics is second to none. We offer complete visibility and unprecedented control of your network and business-critical applications, leading to brilliant user experiences and maximum value. No one else provides this totality of vision and this level of control.
Welcome to Zebra's Experience Centre in Bourne End
The Zebra Experience Centre is so much more than a demonstration space – it's a tool for brainstorming and strategy development. During a visit to the Centre, you will be able to spend time with Zebra's subject matter experts whilst taking part in hands-on demonstrations of Zebra Technologies' latest products and solutions. You will see how our Enterprise Asset Intelligence solutions can introduce the kind of real-time visibility that will enable you to effectively manage your people and assets and introduce efficiencies that will revolutionise your business operations.
The Zebra Experience Centre brings Zebra to life and showcases how they are utilised in a variety of industries including:
Retail & hospitality - See how our products, services and solutions enhance the in-store environment, enable customer connections, improve inventory management and support the retail supply chain.
Healthcare - Explore how our technology improves patient care, increases staff productivity, improves mobile information access and optimises IT spend.
Transportation & logistics - Gain insight into how our technology solutions are transforming material handling processes, information access and asset management.
Manufacturing - See how our solutions technology enables intelligent production, flawless fulfilment and dynamic service.
Field mobility - Understand how to create stronger economies of scale with services that build loyalty, up-sell offerings and catalyse growth.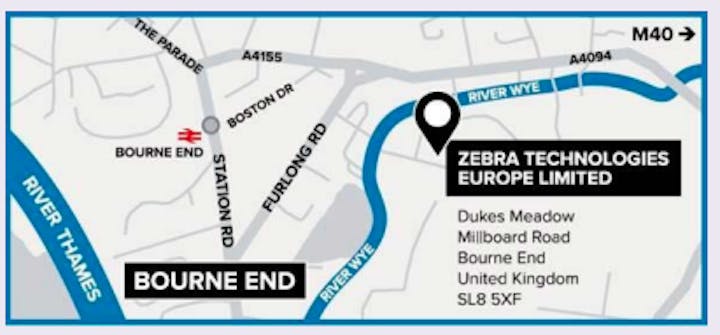 The Zebra Experience Centre is accessible by train from London and is only a 25 minute taxi ride from London Heathrow. It's also an easy drive at just over 10 minutes from the M40 at High Wycombe.
We look forward to welcoming you there.
Powered by Jade Econocom. Call 01925 295 422 or visit jade-solutions.co.uk