WORDS, MUSIC & POETRY - GHAZALS, NAZMS & SUFIANA KALAAMS
About this event
Zeeshan Ali is the student of Ustad Mehdi Hasan Khan sahib and has spent his life in around the art of Ghazal Gayaki. Zeeshan was fortunate enough to be awarded the first place prize in the Asian Song Contest whereby he was given a HMV gold plate by Ustad Nusrat Fateh Ali Khan sahib. Zeeshan has spent over 30 years amongst greats seeking their blessings and taleem, some of which include the great Ustad Salamat Ali Khan sahib, Ustad Pervaiz Mehdi Khan sahib and Ustad Ghulam Ali Khan Sahib, to name a few. Zeeshan hopes to spread the name of his Great Ustad through his passion for music.
SHAHBAZ HUSSAIN - TABLA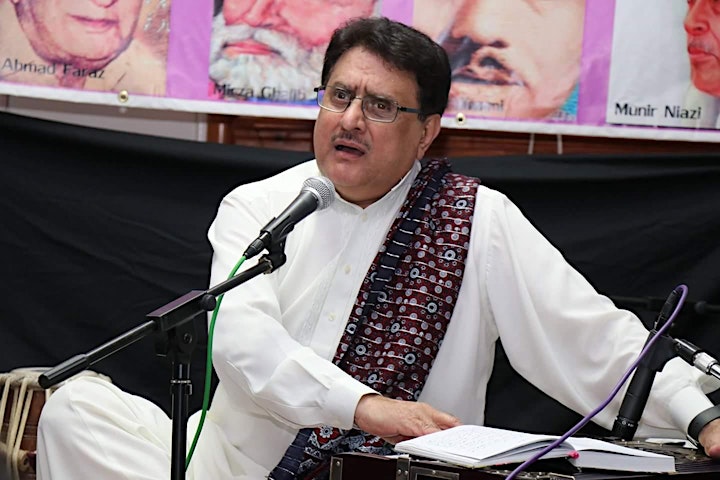 Organiser of ZEESHAN ALI - GHAZALS, NAZMS & SUFIANA KALAAM
Sama Arts Network is one of the UK's oldest and most influential arts organisations in the genre of traditional and contemporary South Asian arts, Orchestral, Jazz and World Music. Since 1977, Sama and its associate bodies have together presented more than 1,250 events with acclaimed artists from around the world. Current Work in progress: Archiving: 1,250 events, 3,000 artists 150 venues 400 albums 3,500 hours of music and film footage covering 40 years of work from 1977 – 2016 to coincide with A new Website, a book and a documentary.
www.sama.co.uk
info@sama.co.uk