Description
Sign up for a special one-day session dedicated to you and your photography. You will learn tips on branding, marketing and the business of photography from industry experts to help you grow your business in 2017. Representatives from leading brands will also be on hand for 1-on-1 consultations on how to increase your sales.
All attendees will get the opportunity to have your website reviewed by the experts - simply submit your site below by January 31st for consideration. In addition, attendees will receive a packed goody-bag filled with industry materials and benefits, refreshments, lunch, a free drink at the on-site bar and a chance to win fantastic prizes in the two free raffle draws.
This event is open to all and designed to provide diverse and valuable tips in each of the presentations, which you can apply to your own business. It is not a requirement to be using Zenfolio and this isn't a Zenfolio "how-to" workshop, though current users are of course welcome. Whichever services you choose to help run your business, you're sure to pick up some valuable new tips and ideas, as well as having a fun day out.
We look forward to seeing you there! - The Zenfolio Team
---
Speaker Lineup:
Catherine Connor (Aspire Photography Training)
Get Your Business on Track
Glyn Dewis (Pro Photographer, Retoucher, Trainer & Author)
Photograph Like a Thief
Kevin Mullins (Pro Wedding Photographer)
Online Marketing & Business Management
Kenda MacDonald (Automation Ninjas)
Marketing Automation: What Everyone's Doing Wrong
Glyn Dewis (Pro Photographer, Retoucher, Trainer & Author)
Post-Production Power Session
Steve Bridgwood, Tiree Dawson & Martin Hobby (Pro Wedding Photographers)
Building Your Online Presence (inc. Website Reviews)
---
FAQs
Do I need to use Zenfolio to attend?
Nope! While there will be a section on websites hosted by the Zenfolio Team, this event is designed to be accessible to anyone looking to learn tips to help them grow their photography business. While the Zenfolio Academy name has in the past provided a 'how-to' workshop for current Zenfolio users, this event is based around wider tips from industry experts that any photographer can apply to their business.
What are my transport/parking options for getting to and from the event? How will I know when I'm there?
There is limited parking at the venue itself, but ample reasonably priced parking in the surrounding streets and car parks. The venue is a 10 minute walk away from Leamington Spa train station for those travelling by train. You will know you're in the right place when standing in front of this building: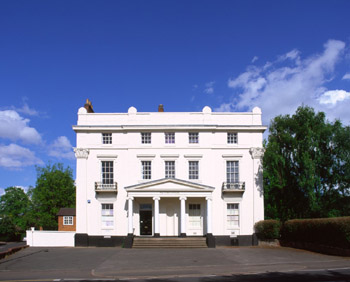 What time should I arrive?
Doors are open from 8:30 with the first presentation beginning at 9:30. Attendees should aim to arrive by 9am for check-in, and be seated ready to go at 9:30. Tea, coffee and a chance to mingle with vendors will be available before the event begins (as well as throughout the day).
What do I need to bring to the event?
Feel free to bring your camera to take a few snaps, though note that this is not a live hands-on workshop, so coming prepared to shoot isn't a requirement. We recommend travelling light, as everything you need will be provided at the venue - including tea, coffee, refreshments, buffet lunch, notepad, paper and a whole host of other goodies!
Do I need to bring a printed version of my ticket?
No - all attendees are stored digitally and will be signed in quickly and easily via a mobile app on arrival. Just show up, let us know who you are, and we'll sign you in!
Are there any vegetarian options available for lunch?
Absolutely! Several vegetarian options will be available as part of the lunch buffet, as well as several meatier options for carnivorous types. And for those with a sweet tooth, 2 varieties of cake will also be provided! Please let the event organiser know at least 3 days prior to the event if you have any specific food allergies.
What are these goodies and prizes you speak of?!
On arrival each attendee will receive a packed goody bag, including leaflets, offers and educational materials from ourselves and our partners, as well as a special Zenfolio notepad and pen for taking notes throughout the day. The two raffle prize draws will also offer the chance to win some fantastic free goodies including websites, prints, educational DVDs and books, portfolio reviews, discounted training sessions, free memberships with associations, and more!
How do I submit my website for the website review portion of the session?
Simply send your site URL to the event organiser here (or via the Submit Site button above). Only websites submitted from the same email address as a registered ticket qualify for a review session, so please be sure to email from the same address you used when booking your ticket. A handful of sites will be picked to be reviewed live during the event and if we don't get to yours during the day, an online session with the Zenfolio Customer Success team will be available after the event. Sites need to be submitted by January 31st at the latest to be considered for inclusion in the event itself.
I have a discount code - how do I apply it?
Discount codes can be applied by clicking Tickets, then Enter Promotional Code.
What's the refund policy?
No refunds are available within 14 days of the event (January 27th onwards).
How can I contact the organiser with any other questions?
If you have any questions about the event, please email adam@zenfolio.com