Description
Zero Carbon System Operation
The next CIGRE Women's Network UK event, kindly hosted by National Grid, is a 3-hour meeting focusing on challenges we are facing in achieving zero carbon operation.
Zero carbon system operation of the electricity system and network assets necessitates a fundamental change to how our system and networks are designed to operate, integrating newer technologies right across the system, from large scale off-shore wind to domestic scale solar panels and increased demand side participation, by using new smart digital systems to manage and control the system in real-time.
Transforming the electricity system and network assets so that it can operate at zero carbon is ambitious and challenging and requires us to work collaboratively in order to address and solve some critical engineering challenges.
The first session will focus on a number of key challenges and solutions that need to be addressed to operate the electricity system and network assets at zero carbon.
The second session will be a soft skill workshop "Building LeaderLike Communication Intelligence 3 ways" focusing on presentation skills (technics, mechanics & approaches), emotional awareness (availability & interaction) and communication skills (acceptance, awareness & resistance).
Please note that due to limited spaces, this event is open on a first come, first served basis.
Agenda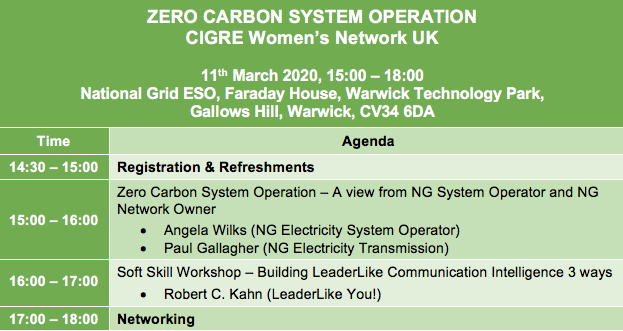 Speakers