Location
Hampton Wick Royal Cricket Club
Park Road
Hampton Wick
KT1 4AZ
United Kingdom
Refund policy
Contact the organiser to request a refund.
Eventbrite's fee is nonrefundable.
Group Honcho Alex Hughes looks forward to welcoming you to the Kingston Zoco Networking meeting! #thezocoway #zoconetworking
About this event
Zoco Networking- how it works
Zoco stands for Zoom + Coffee! And is headed up by Nick Blanchard.
Nick says: I run informal online groups. I wouldn't call it networking exactly, though we are a supportive network, but without the formalities, strict structures, rules and constant selling!
We officially launched in August 2020 after a few months of free meetings to support people during lockdown. Whilst the Founder Nick is based in Hampton, South West London, we now have visitors from all over the world visiting us each week, many able to do business completely online so not tied to geographic limitations!
We always encourage our members to set up 1-1 calls with each other outside of the official meetings. Building relationships is critical not only for business success but also for our mental health.
Now we are also starting to run new in-person local groups, so welcome to the Kingston in-person part of Zoco!
Who joins? 👩🏾 👩🏼‍💼👨🏽‍💻🧔🏽👩🏽‍🍳
One day we might do a group meditation session, another day an Accountant will give some useful advice at these ridiculous times, another day a Nutritionist will give some basic tips….it's real variety!
Generally, it is small business owners working independently, as well as a few network marketeers, freelancers, and health & wellness consultants (who we need more than ever now right?!) There is a real mix of ages, backgrounds, professions and stages of business.
Here's a recent screenshot from one of our group Zoom calls: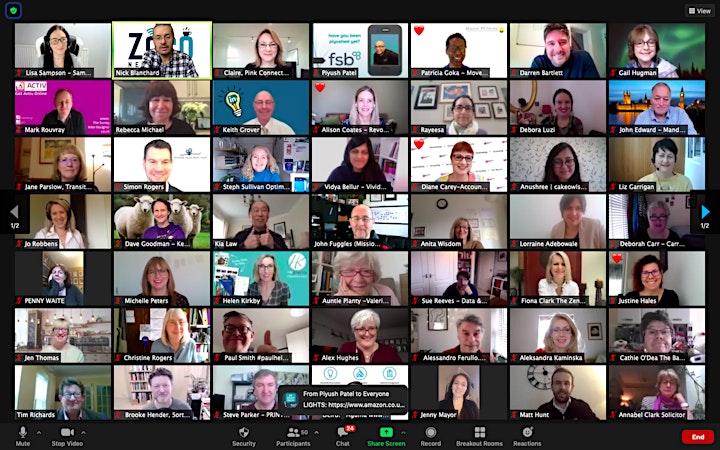 Is it location-specific? 📍
For the online sessions, we don't mind where you join from! Most of us tend to be based in the SW London / Surrey / SW area as this is where it started and where Nick the founder is based. For this session as it's one of our first in-person sessions, obviously you'll need to be fairly close to the Kingston area!
Why should I join? 🤔
This is the perfect combination of being social, friendly and relaxed, whilst also making great connections for our businesses. We stay on track without long monologues or boring sales pitches. This is about getting to know others and figure out how we can be a supportive community.
Free PDF Guide
Download this guide to get details of all regular online Zoco meetings. Ask your group host to keep you in the loop for Reigate-specific meetings too.
https://zoconetworking.co.uk/s/ZOCO-Flyer.pdf
Private Facebook group 💬
Connect with the people you meet in the group via the private Facebook group- share resources and ideas of things that come up during calls. Members also get to participate in live stream Q&As. Join group
Zoco Covid-19 Statement
All attendees must be mindful of others wishes at all time and respect decisions. For this reason, we ask that you abide by these conditions where possible.
1. Face masks are optional and whilst we no longer require that you wear one, we ask our members to respect those who wish to.
2. Handshaking/Hugging we suggest not, but … it's a personal choice and do respect those who don't want to shake hands or hug.
3. Social distancing – no longer necessary to keep everyone 2 metres apart but common sense would suggest that we try to maintain a sensible space between each other – and we will try to ensure seating arrangements are planned accordingly at every meeting.
4. Feeling ill … Take a lateral flow test before you come to the meeting, and it's important that you stay away if you feel unwell.
5. Business Cards/Brochures, our advice is not to distribute business cards at meetings, but again it is down to personal choice.
6. Every Zoco meeting will provide Hand Sanitiser and masks should you want to use them.
At Zoco we care about each other and so we hope these simple precautions will keep our members as safe as possible and enable us to get back to networking, making contacts and referring work and earning a living and enjoying being part of the Zoco Community.
Get your gang involved!
It's more fun when you virtually bring a friend! Please do share this with anyone in your gang or wider circle who wants to make more connections and get word out about what they are doing. Did you know word of mouth is still the most effective form of marketing, so let's support small businesses and keep each other going!
Use the 'Share with friends' options below!
👇 👇 👇 👇 👇