Refund policy
Contact the organiser to request a refund.
Eventbrite's fee is nonrefundable.
Speed Networking, No pitches, just 1-1s each lasting 4 minutes
About this event
Zoco Networking- how it works
Zoco stands for Zoom + Coffee! And is headed up by Nick Blanchard.
Nick says: I run informal online groups. I wouldn't call it networking exactly, though we are a supportive network, but without the formalities, strict structures, rules and constant selling!
I started running these online groups during the first week of lockdown and they have really taken off with each session consistently seeing 50+ people joining. Before this, I was running in-person groups in the SW London area, so I'm happy to invite both existing connections and new connections to join these sessions.
Who joins? 👩🏾 👩🏼‍💼👨🏽‍💻🧔🏽👩🏽‍🍳
One day we might do a group meditation session, another day an Accountant will give some useful advice at these ridiculous times, another day a Nutritionist will give some basic tips….it's real variety!
Generally, it is small business owners working independently, as well as a few network marketeers, freelancers, and health & wellness consultants (who we need more than ever now right?!) There is a real mix of ages, backgrounds, professions and stages of business.
Here's a recent screenshot: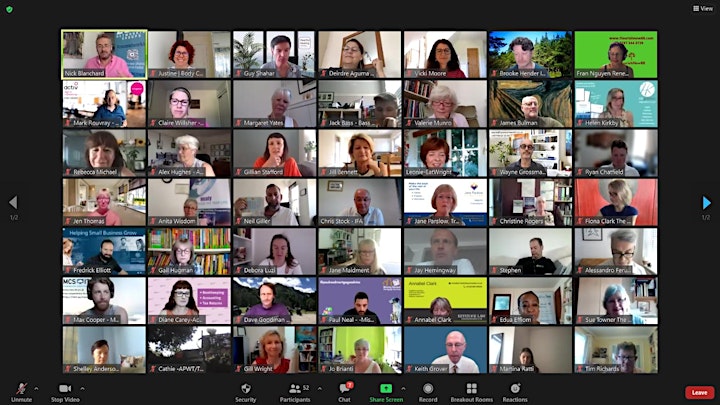 Need further details or fancy a chat??
You can find me EVERYWHERE, Nick Blanchard on LinkedIn (please connect) or call me on 07966 444693 or email Nick@zoconetworking.co.uk
Is it location-specific? 📍
We don't mind where you join from! Most of us tend to be based in the SW London / Surrey / SW area as this is where it started and where Nick the founder is based.
Why should I join? 🤔
People who have attended have said they found it really helped them stay motivated during the lockdown period, and that my twice-weekly sessions have become essential points of connection with others during their working week. We stay on track without long monologues or boring sales pitches. This is about getting to know others and figure out how we can be a supportive community.
This event- Speed Networking 🏎
Sometimes the element missing from virtual networking is a chance to chat 1:1 with others, so we will meet up together for the first few minutes, and then you'll join breakout rooms to chat with another for 4 minutes. It might be someone you've met before or someone totally new. No cheesy sales schpiels, just an informal chat to see if you could support each other as small business owners.
Private Facebook group 💬
Connect with the people you meet in the group via the private Facebook group- share resources and ideas of things that come up during calls. Join group
Get your gang involved!
It's more fun when you virtually bring a friend! Please do share this with anyone in your gang or wider circle who wants to make more connections and get word out about what they are doing. Did you know word of mouth is still the most effective form of marketing, so let's support small businesses and keep each other going!
Use the 'Share with friends' options below!
👇 👇 👇 👇 👇