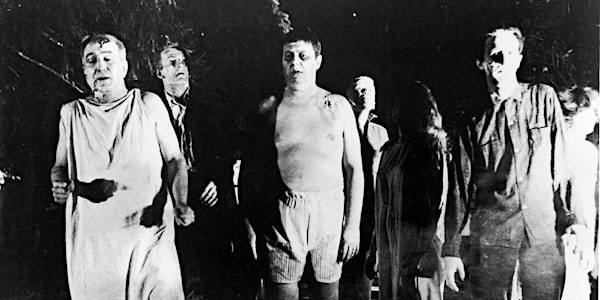 Zombies: the New Dead – a Zoom talk with Roger Luckhurst
Refund policy
Refunds up to 1 day before event
Professor Roger Luckhurst explores advances in medical science, the modern zombie story and its role in horror fiction and film.
About this event
In 1968, medical science radically re-defined death. It was no longer marked by the cessation of the heart, but by the absence of brain activity. This was a product of new technologies, which could sustain the physical body for prolonged periods on support machines in Intensive Care Units, but without the hope of a recovery of brain function. It produced early on a weird state between physical death and actual death occupied by profoundly anomalous beings.
It is perhaps no coincidence that in 1968 George Romero released his Night of the Living Dead and launched the modern zombie story – beings somewhere between life and death, best dispatched by a shot to the head, not the heart. Since then, the number of types of people who occupy this shadowy position between life and death, or between two deaths, has only expanded. This talk will explore some of these conditions, and also examine how they pop up in horror fiction and film. A kind of undead...
Roger Luckhurst is a Professor who teaches at Birkbeck College, University of London. He has written on mummies, vampires, and zombies, and was once welcomed onto Radio 3's 'The Verb' as 'the go-to guy for the undead.' His most recent book is Gothic: An Illustrated History, from Thames and Hudson (2021).
Your host for this event will be the writer Edward Parnell, author of Ghostland: In Search of a Haunted Country. Edward Parnell lives in Norfolk and has an MA in Creative Writing from the University of East Anglia. Ghostland (William Collins, 2019), a work of narrative non-fiction, is a moving exploration of what has haunted our writers and artists – as well as the author's own haunted past; it was shortlisted for the PEN Ackerley 2020 prize, an award given to a literary autobiography of excellence. Edward's first novel The Listeners (2014), won the Rethink New Novels Prize. For further info see: https://edwardparnell.com