Refund policy
Contact the organiser to request a refund.
Eventbrite's fee is nonrefundable.
Zoom UFO, Paranormal and Spiritual Conference 2021
About this event
Join us for our 3rd fabulous conference on UFOs, Para and Super Normal Occurrences, this time it is a virtual experience due to Covid-19.
The physical event has been postponed to June 11th 2022 to be held in Newport Gwent UK at a venue to be announced. bit.ly/3bli8o4
SATURDAY 5th June
Our speakers will include but may change :-
FIRST SESSION - UFOs
9.00 - 9.30  Chat
9.30 - 10.30 SUFON on current sightings in Wales.
10.30 - 11.30 Carol Noonan, author on star seeds, is a UFO experiencer and contactee and her connection to Pleiades.
11.30 - 12.00 Break
12.00 - 13.00 Bruce Fenton, author/researcher and guest expert on the current season of Ancient Aliens on evidence of craft debris and some genetic anomalies suggesting ET manipulation.
SECOND SESSION- BENEVOLENT BEINGS
14.00-15.00 Guy Needler, author, international speaker on our current Ascension and his meeting with an alien craft.
15.00- 16.00 Peter Hedron, author, YouTube personality, on Machine Elves from another world and their messages for the present time. Peter's video channel is 434.com and his online shop is shop.be434.com
16.00- 16.30 Break
16.30- 17.30  Tracy Farquhar, a medium from the States, on FRANK, a group of benign beings, who are helping humanity.
17.30- 18.30 Robin Foy on the Scole Experiments, a fascinating look at life after death and the blue people.
We look forward to meeting you virtually on Zoom. It would have been a physical conference but not with Covid restrictions.
Please send me your name and address and you will receive an e-book on ET even if you don't book this time.
Thank you for your booking. You will receive a number of bonuses afterwards.
1. Recording of the conference.
2. Recording on the Ascension from Sharon Milne Barbour, Carl John on Welsh ghosts, Lynne Bouquet on the Template Ceremonies, Marc Guy on Symbolism and Russ Hewer on Buddhist Mantras. You could watch them at your leisure. Details will be sent later.
All the best,
Danielle Sheahan
daniellesheahan@yahoo.co.uk if you would like more information.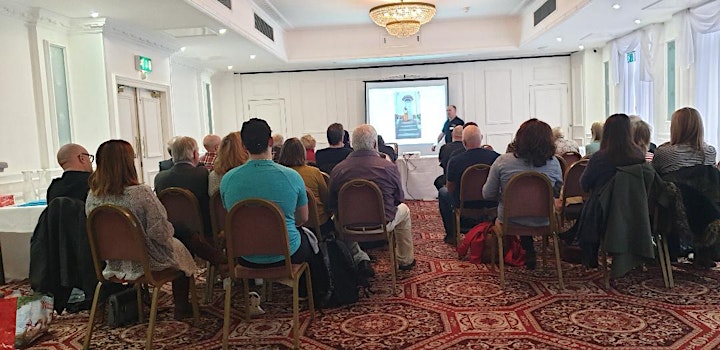 "Absolutely enjoyed the day, didn't know what to expect but learnt some really fascinating things that we shall now go away and look further into."
"Thank you. We enjoyed all the talks."
"A most interesting day. Pushing the boundaries of thought."
"Really informative interesting day. I enjoyed the diversity of subjects."
A few of the comments from the last conference on the 13th Oct at St Mellons Hotel.