Zumba® & Midsummer BBQ at Eastwood Park, Falfield - 9th June 2019 - 2 pm -...
Description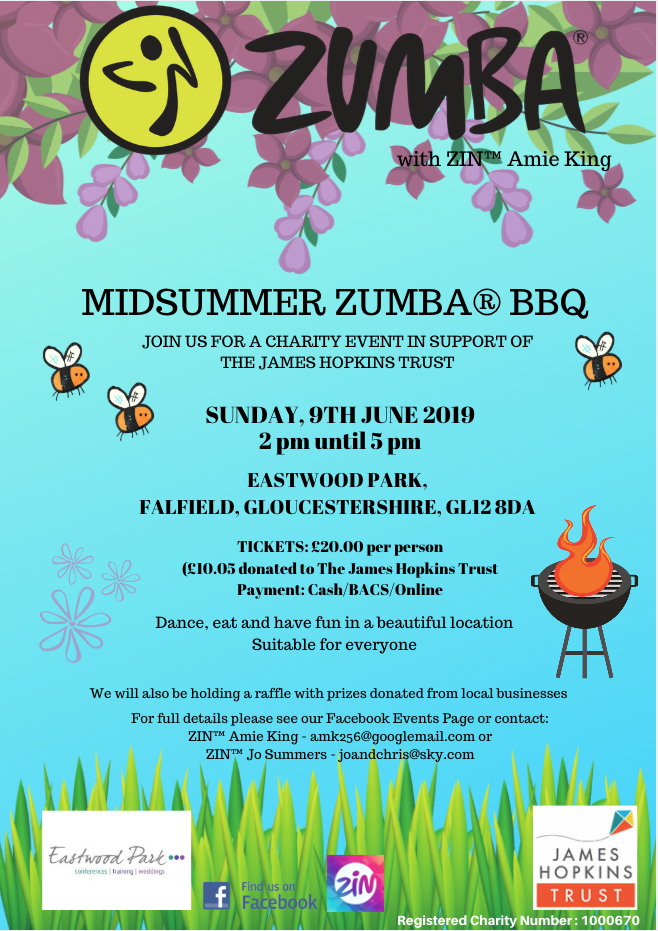 Join us at Eastwood Park in Falfield for Zumba® and a Midsummer BBQ in order to raise funds for the James Hopkins Trust
A note from your hosts:
At past charity events we have supported national charities but this year we wanted to do something a little closer to home for a charity that needs support and is run locally and supports severely disabled children and their families.
Therefore, this year we are supporting the James Hopkins Trust. This is a charity based in Gloucestershire which was established in 1989 who provide care for babies and children up to the age of 5 who have a life limiting or life threatening condition, while supporting their families. They currently support over 90 children in Gloucestershire.
Since 1989 the James Hopkins Trust has helped well over 500 children and their families in every corner of Gloucestershire, with free nursing respite which can be night or day in the family home or at the purpose built multi-sensory respite centre and gardens called Kites Corner.
They create very special, lasting memories at Kites Corner, which is filled with love and laughter
For full details please visit the James Hopkins Trust website:
https://www.jameshopkinstrust.org.uk/
---
Event Timetable will be posted at a later date.
Everyone is welcome, whether you are a regular Zumba® class participant or if you have never tried it before, it is suitable for all.
Tickets are LIMITED so please do not delay if you are planning on joining us.
There will also be a raffle with prizes donated from local businesses in the area. Prizes will be confirmed at a later date.
Ticket price £20.00 (£9.95 for BBQ £10.05 donation to this worthy charity)
If you have any food allergies or are vegetarian/vegan please let us know, we will be able to cater for your needs.
How to pay:
We want to ensure that our chosen charity receives as much as possible, which is why we are accepting payment in the following way.
Once we receive your registration for this event, you will receive a confirmation e-mail which will give you the payment options available to you. Payment can be made in cash or cheque at a class or you can send payment direct by bank transfer or by paypal (small processing fee of £0.85 will apply).
Once payment has been received you will receive an e-mail with a ticket and receipt of payment.
For those who do not have access to a computer, a ticket and receipt will be provided to you in class or by post.
YOUR TICKETS ARE NOT SECURE UNTIL FULL PAYMENT HAS BEEN RECEIVED. PLEASE NOTE REFUNDS CANNOT BE GIVEN BUT YOUR TICKET CAN BE TRANSFERRED TO ANOTHER PERSON IF YOU ARE UNABLE TO ATTEND.
---
James Hopkins Trust : https://www.jameshopkinstrust.org.uk/#
Eastwood Park : www.eastwoodpark.co.uk
Facebook Event Page : https://www.facebook.com/events/380090909434392/
Parking : There is free parking available on site.
Directions :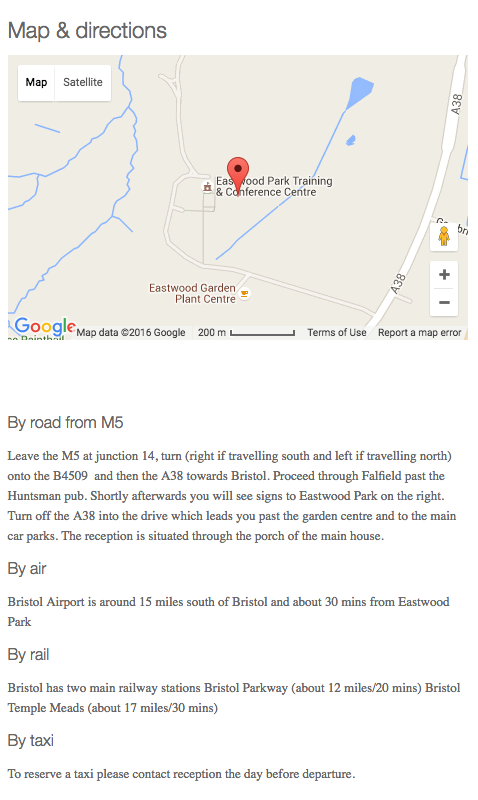 ---
What do I need to bring with me:
We suggest that you were comfortable clothing and shoes. Please bring a drink of water in a suitable container with you for the Zumba® part of this event. A sense of humour and a smile is the only other thing that you need!