Event Information
Location
Room C11, Advanced Manufacturing Building
The Advanced Manufacturing Building
The University of Nottingham, Jubilee Campus
Nottingham
NG8 1BB
United Kingdom
Description
Speaker: Prof. Peter de Groot
Time: Wednesdays, 2-3 PM, multiple dates listed below
Location: Room C11, Advanced Manufacturing Building (AMB), Jubilee Campus, University of Nottingham
The Manufacturing Metrology Team warmly welcomes Prof. Peter de Groot to the UK, who will be giving a series of four seminars during his visit at the University. These four seminars will run once every other week across October and November:
To find out more about each seminar, please click the links above or visit our hub page.
---
Biography: Peter de Groot is Honorary Professor at the University of Nottingham and a visiting member of the Manufacturing Metrology Team headed by Prof. Richard Leach. Peter is a physics PhD with 30 years' experience in optics, specializing in interferometric methods for position and displacement monitoring, 3D form measurement, and surface texture analysis. He is the Executive Director of R&D at Zygo Corporation, where he heads the Innovations Group, tasked with the solving challenging problems in optical metrology using inventive instruments and methods. Peter is an inventor for 135 US patents, an author of 160 papers and book chapters, a Fellow of the SPIE and of the OSA, and multiple award winner for innovation.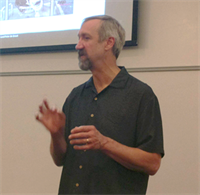 ---
If you have any questions concerning this seminar series, please email the organsiser Matthew Thomas at Matthew.Thomas1@nottingham.ac.uk

Location
Room C11, Advanced Manufacturing Building
The Advanced Manufacturing Building
The University of Nottingham, Jubilee Campus
Nottingham
NG8 1BB
United Kingdom