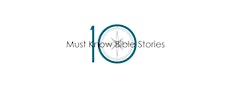 10 Must Know Bible Stories
The Ten Must Know Bible Stories project provides a suite of resources for first and second level which promote active and outdoor learning, embed RME across the curriculum and encourage children to discover Christian belief for themselves as they explore 10 Bible Stories.
As well as providing resources the 10 Must Know Bible Stories Project offers training sessions for teachers and chaplains. These training sessions will increase participants knowledge of a Bible story and increase participant confidence in helping children to explore the story.
Sorry, there are no upcoming events