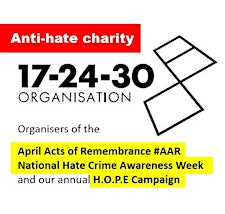 17-24-30 National Hate Crime Awareness Week
17-24-30 No To Hate Crime Campaign was established in March 2009 to mark the 10th anniversary of the London Nail Bomb attacks on Brixton, Brick Lane and Soho. The group take's it's name from the combined dates of the three attacks that took place on the 17th, 24th and 30th April 1999.
The purpose of our anti-hate crme charity is to organise and facilitate the April Acts of Remembrance #AAR, the October Natonal Hate Crime Awareness Week #NHCAW and our annual H.O.P.E. campaign.
We are a small charity registered with HMRC Ref XT30898
info@nationalhcaw.uk | www.nationalhcaw.uk | www.facebook.com/NationalHCAW/