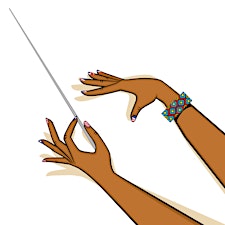 7th London Festival of American Music, Director Odaline de la Martinez
THE 7TH LONDON FESTIVAL OF AMERICAN MUSIC
Lontano's Biennial Festival - created in 2006 – explores and celebrates the work of major American composers and reflects the variety of style that is so characteristic of contemporary American music today. The festival programme was put together by Lontano's Music Director Odaline de la Martinez, one of Britain's most dynamic and gifted musicians and the first woman to conduct a complete BBC Prom at the Royal Albert Hall. This year's festival celebrates American Diversity featuring not only American Women Composers, but also American Composers of Colour. The Festival celebrates Odaline de la Martinez's 70th birthday with the World Premiere her opera Imoinda - A Story of Love and Slavery.
With a wide selection of well-known and successful composers, the festival reflects new music in America today, as well as diversity of gender, generation and geography. Some of the composers Ruth Crawford Seeger, John Harbison and Florence Price are Deans of American Music, who together with George Crumb, Samuel Barber and Aaron Copland are internationally known. Others though well known in the States, are emerging voices outside their native North America, and were selected specifically to treat UK audiences to a broader spectrum of the best of American music today. Featured are world premieres by Barbara Jazwinski, James Lee III, Elena Ruehr, and Sarah Rikus as well as UK Premieres to include Augusta Read Thomas, Fred Lerdahl, Jorge Sosa and many more. Many of the composers featured will be attending the festival. Most of the pieces presented will be UK or European premieres.  
On February 24th the Festival opens with a concert by the young and exciting Ligeti String quartet.  The second and fifth concerts feature the extraordinary guitarist Michael Poll on the 25th and Alison Buchanan and Eugene Asti in a recital of vocal works featuring African-American composers on the 28th. Lontano Ensemble delivers a lively and varied programme on the 26th. The opera Imoinda - A Story of Love and Slavery is featured on the 27th of February and 1st and 2nd of March.
Before concerts on the 26th and 27th are Panels giving audiences a chance to learn more about the music and hear what the composers and performers have to say. Meet the Composer on the 26th of February features a Women's Panel led by the leading journalist of Women in Music Jessica Duchen. The Panel on the 27th, led by the distinguished poet and author Joan Anim Addo deals with the subject of Women and Slavery.
Sorry, there are no upcoming events