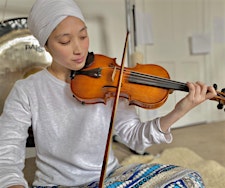 Adi Priya Kaur
Dr Adi Priya Kaur is medical doctor from Japan. Her love of working with people coupled with a passion for science, drew her toward a career in medicine. She is a qualified Hatha Yoga teacher and a Level 1 kundalini teacher, currently studying Level 2 with the Karam Kriya School in London

 

 

The discipline and beauty of kundalini yoga has inspired her physically, mentally and spiritually. Through her regular practice she began to notice the profound strength and flexibility that has developed both on and off the mat. Her aim is to share with others, the qualities of inner peace and happiness she has found, so that they also can attain a transformation through the science, technology and experience of kundalini yoga.

 

 

As a musician she has been studying music and the violin since a young age, and played regularly as part of an orchestra,  performing in concerts and at events, her love for sacred mantra has re kindled her practice.