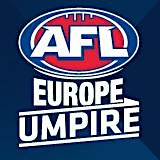 AFL Europe Umpires
Umpires by choice, the fraternity of AFL Europe umpires. Our events are dedicated to developing the skills of the third "team" - the umpires - and fostering a respectful community for umpiring in our region. 
Our mission is to promote education, safety and fairness for all participants of Australian Football in Europe, in a united, structured and respectful way. Our belief is that as our umpires improve their range of skills, the game of Australian Football here in Europe directly benefits. 
Locally developed and expat Australian umpires form our culturally and geographically diverse organisation in all of our member leagues. Past, present and future umpires are encouraged to register for our events. We believe development and inclusiveness go hand in hand - umpires of any level can contribute to our discussion for the benefit of our group.
Want to umpire in your local league? Interested in finding out more about what Australian Football (Aussie Rules) is what it takes to become an umpire? Or would you like to register for our courses or be considered for our marquee events? For all of these questions and more, email shane@integralsportsadvice.com, or register via this site.
Sorry, there are no upcoming events