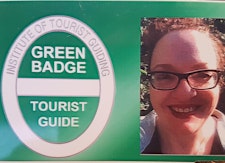 Alexatours
New Tours for Feb and March 2021
ZOOM TALKS FOR 2021
Just to say a little hello to all my lovely tour guests - past, present and future.
I'm thinking of you all and hoping we all keep well. especially as the new variant is in the UK. Stay safe everyone.

In the meantime I will continue to post articles on social media relating to the cultural heritage of Salford, Manchester & Greater Manchester.
I do hope you enjoy these
FB @Bricksandwater
Twitter @Bricks_andwater
Instagram blog - Alexatourguide
Interested to explore our local history?  Let me, an experienced heritage professional and Green Badge Tour Guide, take you on an exciting voyage of discovery to find more about our cultural heritage.  Let me introduce you to the people of the past, both rich and poor that made our present...
Whether you are working or touring in the area or planning a visit to a match, a museum or even the new RHS Garden Bridgewater in 2020, having a qualified tour guide is the best way to find more about the area.
My tours include fun interesting facts about both the built and natural heritage as well as art, music and literature   I would love to take you on a journey of discovery.  
In addition, I can provide private tours, walks and talks - inc private boating and cycling tours.(Available to do private architectural tours UK wide historic houses and gardens).
Facebook: @Bricksandwatertours   Twitter: @Bricks_andwater 
Instagram Daily Blog: @Alexatourguide
EMAIL Alexatours@outlook.com
Web page (in progress)