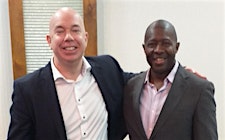 Andrew Cameron
Andrew Cameron is an entrepreneur with a background as a certified trainer & facilitator for over 30 years in the IT industry he has worked with organisations like British Transport Police, Financial Conduct Authority, Ministry of Defence he has a track record of teaching new subjects to students. So, they can apply the knowledge immediately regardless of whether they believe they are a great student or not, if they are coachable & teachable, they'll achieve outstanding results. 
Andrew will teach proven strategies that he has learnt and applied from millionaire mentors like, Simon Coulson who has made over 30 million pounds online, Jeff Walker (400-million-dollar man. He has invested lots of money and time to acquire this knowledge and is happy to share it with you.
Andrew is personally mentored by UK's leading Internet marketer, Simon Coulson founder of the UK's leading accredited internet marketing course.