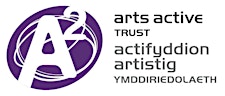 Arts Active
The Arts Active Trust is a registered charity that supports education, community and audience engagement projects from St David's Hall (The National Concert Hall of Wales) and the New Theatre (an Edwardian large scale presenting theatre in Cardiff).
The Trust believes passionately in the power of the high quality arts projects to engage, inspire and transform people's lives no matter what their economic, cultural and social context may be.
As a charitable organisation Arts Active Trust relies on support from the corporate sector, trusts and foundations and individuals in order to continue to develop its community engagement, working with schools, communities and disadvantaged groups throughout Wales.