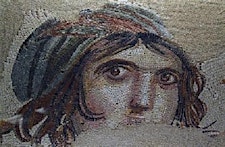 Ashridge Decorative and Fine Arts Society (ADFAS)
To celebrate its 50th year of existance last year, we were pleased to announce that the Ashridge Decorative and Fine Arts Society (known as ADFAS) were organising two 'taster' evening talks in the Autumn 2017 to raised awareness of this new development in the Arts in the Dacorum area.
This was sufficiently successful that the ADFAS Committee decided to start a series of Evening lectures on the second Wednesday of each month from 14 February 2018 in Berkhamsted's Civic Centre.
Again it was decided to formalise this as the starting point for the current 2018/19 season of lectures on all matters relating to the Arts.   ADFAS Evenings operates on the basis of an annual membership for the current year starting on October 2018 and covering seven talks.
Hence you can take out an annual membership to either the ADFAS Morning or Evening series or both at a discount!). The Morning sessions continue as currently on the last Wednesday of each month utilising the Potten End Village Hall.  
The Evening lectures allow us to offer our activities to a much broader range of people in the geographic area of Tring, St Albans, Hemel Hempstead and Berkhamsted and all the surrounding villages.
ADFAS Evenings is looking for new members to assist in us doubling our membership over the next few months so try us out by booking an Evening ticket for our next meeting to see how we operate.
Look at our website www.ashridgedfas.org.uk for the schedule of talks and also our record of supporting the arts with our Young Arts activities.
We encourage local schools to arrange small groups of interested student to attend an ADFAS Evening talk for free using our appropriate Eventbrite facilities
So why not join us and become a Founder Member of this exciting new development in the Arts?
We look forward to getting to know you.
Sorry, there are no upcoming events