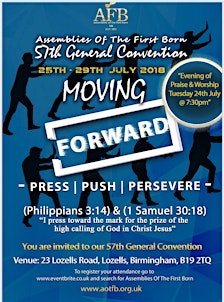 Assemblies of the First Born Church
The 57th Annual General Convention is being held in Birmingham this year at 23 Lozells Road Lozells Birmingham B19 2TQ. 
All are welcome from Wednesday 25th - Sunday 29th July 2018. 
Join us for a Blessing from the Lord which will include teaching and empowerment sessions for, men, women, young people and the family.
Do reserve your spaces.
Sorry, there are no upcoming events