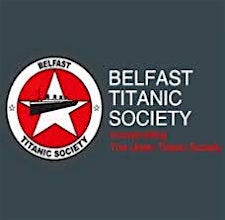 Belfast Titanic Society
The Belfast Titanic Society, originally called the Ulster Titanic Society, was formed at a meeting in the Linenhall Library in Belfast in May 1992.  
We are unique in that we are the only Titanic Society in the world that holds regular meetings. Membership package includes 2 full colour hard copy magazines 'CQD TITANIC' per year plus free access to all our online meetings. Non members can join each meeting at a small cost or they may wish to join the Society to gain access to the free online meetings.