Bideford Bay Creatives (BBC)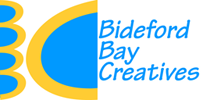 Bideford Bay Creatives (BBC) are a not-for-profit community group created in July 2009 in response to there being a large number of creative practitioners in Bideford, Northam, Appledore and Westward Ho! but with no formal way of networking, sharing ideas and generating new projects to bring vibrancy and creativity to the town centre.
BBC works towards creating opportunities for the local community (people, businesses, voluntary groups and arts organisations) to host events and activities and get involved with the arts. Our emphasis is on cultural tourism, economic regeneration, community involvement and partnership working.