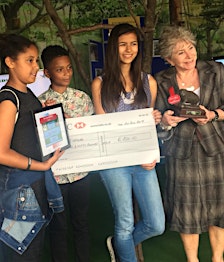 Black2Nature
Black2Nature was set up in 2015 by the then 14-year-old Mya-Rose Craig AKA Birdgirl. We work to increase the engagement of Visible Minority Ethnic (VME) people with nature and the environment.
The 2016 MEME Report found that 20% fewer VME children go out into green spaces weekly compared to White middle-class children. Children from a deprived background were still visiting 10% more then VME children demonstrating that although poverty has an impact, ethnicity has twice the impact. 
We believe our project is essential for community cohesion and managing mental health issues for young people of all backgrounds to experience going out into green spaces together. This is particularly important for VME communities as 60% of all mental health hospital admissions are people of a VME background, three times the national average population.
We organise separate nature camps for children and teenagers from inner-city areas of deprivation of all ethnicities but particularly focussing on VME young people, as well as conferences and other events to promote our aims. Our primary children's camps take place in the Chew Valley and attending children have often never seen a cow, sheep or even stroked a dog. We provide the children with treats such as ice cream at Chew Valley Lake as many children attending told us that they were rarely able to have a double cone of ice-cream due to poverty. One 8 year old described the smell of pollution in the city compared to the good smells in the countryside, even if it was of cow poo. Every teenager who has attended a camp in Somerset or a workshop has connected with nature and engaged with environmental issues.
Our Race Equality in Nature Conferences is attended by those from the environmental sector as well as those who are VME and/or working with VME communities. We examine the barriers to VME people getting out into nature, working with those from nature, nature conservation/media and environmental sectors to understand what is needed to overcome those barriers and then ensuring that the sector takes steps necessary to engage VME communities and make the sector ethnically diverse. At present only 0.6% of environmental professionals are VME which must change.
We also campaign to make the environmental sector ethnically diverse partnering on events; speaking, writing and meeting with sector leaders to highlight change needed and where we feel there is racism preventing that change.
Black2Nature consists of Mya-Rose Craig AKA Birdgirl as President, Helena Craig as Chair, Chris Craig as Treasurer, Ayesha Ahmed-Mendoza as voluntary camp coordinator and Jacqueline Linton as volunteer conference coordinator as well as committee members Sonia Morrison, Monira Ahmed Chowdhury and Shuel Miah. 
Previous speakers:  Mya-Rose Craig AKA Birdgirl, Bill Oddie, Kerry McCarthy MP, Bristol Mayor Marvin Rees, Stephen Moss (broadcaster), Monira Ahmed Chowdhury (Prominent Race Expert & CASS), Rachel De Garang (Imayla), Helena Craig, Jini Reddy (author), Dr Richard Benwell (parliamentary advisor), Lily Khandker (BMFF), Ian Barrett Bristol Green Capital Partnership (BGCP) and Avon Wildlife Trust (AWT), Jasmine Ketibuah-Foley (ex-Green & Black Ambassador), Zakiya McKenzie (ex-Green & Black Ambassador).
Previous Partners: Bristol Multi-Faith Forum (BMFF), Community Action Support Services (CASS), Imayla, WWT, Bristol Green Capital Partnership, Festival of Nature, The Community Farm.
Previous/Current Funders: The Burns Price Foundation, Quartet Foundation, CASS, Bristol & West Show, The Wildlife Trusts, Wildlife and Wetland Trust, Bristol Zoo & Gardens,  Imayla, Bristol Ornithological Club, Leica Camera, Opticron, Swarovski Optik, Brian Eversham (CEO Bedfordshire, Cambridgeshire Wildlife Trust), A Focus on Nature.
Please get in touch if you would like to partner with us on an event, volunteer or might be able to provide funding.

Sorry, there are no upcoming events