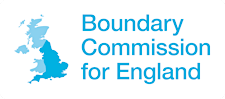 Boundary Commission for England
Welcome to the Boundary Commission for England's public hearing booking site.
The BCE is an independent and impartial advisory public body, which reviews the boundaries of parliamentary constituencies in England. We are currently conducting the 2018 review of parliamentary constituencies in England, which we are required to report to Parliament in September 2018.
As part of the review we are consulting on our Initial proposals for new constituencies in England. As well as submitting views through our website, we invite you to come to one of our public hearings around the country and give your views direct to one of our Assistant Commissioners.
Please note the BCE is required by law to make a record of these hearings, which is subsequently published. We will therefore be video recording all the proceedings and subsequently publishing the videos.
You can find all the details about public hearings in your area, and how to book a slot to give your views, on this site.
Sorry, there are no upcoming events