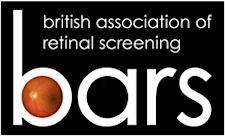 British Association of Retinal Screening
 Diabetic retinopathy is still a common cause of blindness in the UK's under 65 age group and retinal screening is an effective way to reduce or prevent visual loss from blood vessel damage. There are approximately 2.8 million people diagnosed with diabetes in the UK and there are nearly 900,00 people who are undiagnosed. It is the aim of all diabetic eye screening services within the UK to offer annual diabetic eye screening to 100% of their patients.
BARS is an organisation that was set up 16 years ago primarily for screeners but in 2010 the name of the association was changed to the British Association of Retinal Screening so that all staff involved in providing retinal screening services for people with diabetes felt that the association represented them.

Our main aims are to provide a continuing educational, representational and support resource for those involved in screening both by using the internet and by the organisation of suitable conferences and meetings.
Crowne Plaza Newcastle - Stephenson Quarter • Newcastle upon Tyne
£0 - £125