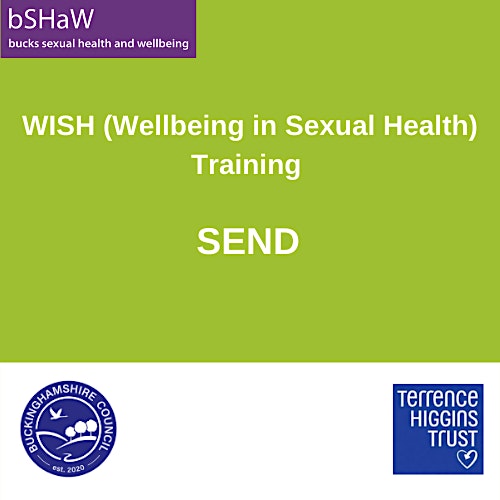 bSHaW WISH Training - SEND
The WISH (Wellbeing in Sexual Health) training programme is commissioned by Buckinghamshire Council. All courses are facilitated by Terrence Higgins Trust, a specialist sexual health service that is part of the bSHaW (Buckinghamshire Sexual Health and Wellbeing) service.
The WISH training programme is free of charge and suited to professionals working within Buckinghamshire that work with children, young people and vulnerable adults. The course content is designed to increase the professionals knowledge of the topics and will allow them to offer appropriate information, advice and support to the individuals that they are working with.
For any queries regarding the courses, please Email: info.sexualhealthbucks@tht.org.uk
We can also offer in-house training for 6-20 recipients free of charge. For any in-house training queries please contact our trainer directly via email on Kimberley.goodall@tht.org.uk
Due to the current government advice, we are unable to deliver training in person for the forseeable future. All courses on the WISH programme are being delivered online via Zoom and the courses will run for up to two hours. Please consider this when booking on to a course. If you have any questions or queries, please email  Info.SexualHealthBucks@tht.org.uk