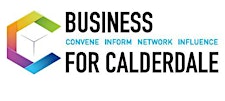 Business for Calderdale
We welcome everyone to our events, whether you are a member or not.
Your first visit is free and membership is only £100 per year allows free entry to our events for two people from an organisation and a company listing on our website.
Our events offer the opportunity for informal networking, and also to visit some of the best businesses in Calderdale, and hear from local business people.
Take a look at our website - www.businessforcalderdale.co.uk
Sorry, there are no upcoming events