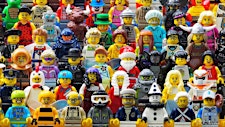 CalderBrick Ltd
BRICKS4KIDZ
Our workshops and parties are a combination of games, activities, and model building with LEGO bricks.
 We use unique model plans with our special project kits, as well as "colour kits" offering building which encourages their imagination.
 For details of our party packages visit www.brickparties.co.uk 
 If you have any questions then please email calderdale@bricks4kidz.com
BRICKTOPIA
We organise family-friendly events across Calderdale, Kirklees and beyond - including LEGO brick shows.

For more information visit www.bricktopiaevents.co.uk
 If you have any questions then please email info@bricktopiaevents.co.uk 
Sorry, there are no upcoming events