Carer Positive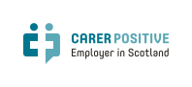 The Carer Positive employer award scheme is operated across Scotland by Carers Scotland on behalf of the Scottish Government.  As the population ages, more and more people in the workforce will find themselves balancing work and caring responsibilities. Carer Positive supports employers to provide a workplace environment where carers feel valued and supported. As well as supporting the wellbeing of staff who are carers, this can deliver real benefits to employers in terms of recruitment, engagement, and retention.
Over 140 organisations across Scotland have been recognised as Carer Positive Employers. The scheme is free to participate in, with access to resources, support and advice.
Visit the Carer Positive website for further information, or contact Sue McLintock on 0141 445 3070 or at info@carerpositive.org.