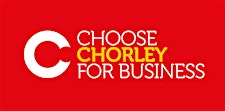 Choose Chorley
Choose Chorley for Business hold events, workshops and masterclasses for businesses based in Chorley and the surrounding areas within Lancashire.
Based within Chorley Council, with some events at the Town Hall, and other events in the new Digital Hub, Strawberry Fields, which has state of the art offices/meeting and training rooms.
Providing business support to all Lancashire based businesses who are Digital/Creative and support to any Chorley based business.