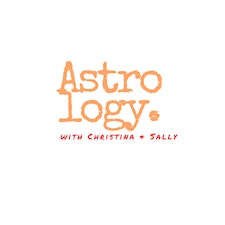 Christina Rodenbeck & Sally Kirkman
Christina Rodenbeck & Sally Kirkman are two of the UK's smartest, kindest and most engaging astrologers.
We're not astrologers who want to confine the langauge of the stars to a dry set of rules. Astrology is a living, dynamic system of knowledge. That's why we both offer astrology readings and work with clients personally. This is where the magic of astrology occurs, whether you call it divination, counselling, intuitive guidance or simply darned good advice. Clients become friends and we both care deeply that your experience of astrology is vibrant and meaningful. 
When we started our regular monthly podcast in March 2018, we swiftly discovered that we had real chemistry -- maybe that was the Pisces-Scorpio Suns, or maybe it was the Aries-Leo Ascendants. Fire and water seemed to create intuition and wonder, spark and sensitivity. 
You can learn more about Christina's wide-ranging astrology on her website, The Oxford Astrologer. Don't miss her renowned monthly horoscopes.
Sally brings the stars down to earth at sallykirkman.com. Her weekly Star Guide is a must-read if you want to make guided decisions in your own life every week.
Sorry, there are no upcoming events