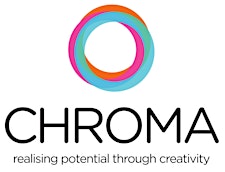 Chroma
Chroma provides psychological arts therapy services and creates corporate staff development packages
Whether you require Art Therapy, Dramatherapy or Music Therapy, we have an experienced team, provide a clear evidential basis for our work, and a simple pricing structure with no hidden charges or extras.
We undertake baseline and follow-up assessments, provide staff training, input into care pathways, individualised education plans and Employee Assistance Programmes. Our outcomes data helps regulating authorities such as Ofsted, Estyn, or the Care Quality Commission see the everyday and longer-term difference we make.
Our status as Allied Health Professionals gives new partner organisations reassurance that our approach, whilst being innovative, has been robustly evidenced and internationally researched over the last 50 years.
As you would expect, we at Chroma are passionate and experienced at what we do.
Sorry, there are no upcoming events