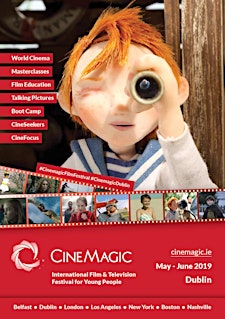 Cinemagic
Cinemagic International Film and Television Festival for Young People is an award-winning charity that has been educating, inspiring and motivating young people across the world for the last three decades.
Cinemagic is an organisation with international networks and a worldwide reputation for excellence in children's programming. 
As the largest film and television festival designed for and by young people in the UK and Ireland around 40,000 young people (Under 25) participate in Cinemagic events in Belfast, Dublin, London, New York and Los Angeles each year. 
Since it was established Cinemagic has engaged with over 500,000 young people, screened over 3,000 films, and hosted over 500 masterclasses, industry workshops, Q&As and special events. Our film production projects have received international acclaim for their ambition, quality and reach.
Cinemagic embraces the magic of film, television and digital technologies and offers young people the chance to develop real skills, explore opportunities, and reaffirm their belief in what they want to do and their own ability to achieve it.
Cinemagic has recently  produced two feature films, A CHRISTMAS STAR and GRACE AND GOLIATH; secured worldwide distribution for both films; developed award-winning "behind the scene" documentaries; produced over 100 short films; and supported hundreds of young trainees to secure work in the film and television industry.
Cinemagic has incredible patrons that share in its ethos such as, Liam Neeson, Pierce Brosnan, Saoirse Ronan, Colin Farrell, Suranne Jones, Paula Malcomson and Julian Fellowes, to name but a few. Their support is vital and they are extremely generous with their time.
Sorry, there are no upcoming events