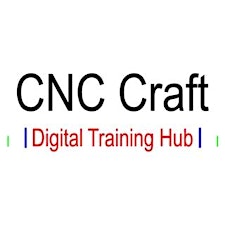 CNC Craft Digital Technology Hub
CNC Craft Digital Training Hub 
Since the corona virus outbreak CNC Craft courses have been adapted to be run online, so the 3D Printing, Laser Cutting & Engraving and CNC Routing are now held using Zoom, the video conferancing software. This allows learners and instructor to interact face to face, share desktops and even control the workspace from their own computer, almost as if it was a live training session. Completed designs can be emailed to the workshop and streaming video will show the machines in action making the real object. Open for enrolment on Eventbrite, there are a very limited number of places, so early booking is advisable. For more details about the Digital Training Courses available please email: aaron@cnccraft.co.uk 
I'm Aaron Moore, founder of the Digital Training Hub. I am a  furniture maker and designer living and working on the North Coast of Cornwall. I make unique furniture, lighting and custon joinery using quality materials.
Previously, I spent several years teaching rural artisans in East Africa how to make the tools they could not afford to buy. When I returned to the UK I realised the future of design and craft lay in digital technology, so over the last ten years, I've specialised in computer-aided design and manufacture, building my own digital tools. I now have a CNC Router, a Laser Cutter, a large-scale 3D printer. and a 3D Scanner.
To see more of my work go to www.cnccraft.co.uk
Exhibitions & Presentations Featuring My Work
'Maker Movement' presentation at The Royal Cornwall Polytechnic Society, Falmouth 2016
"All Makers Now?" Falmouth University, Cornwall, July 2014
"100% Design" Exhibition Centre, Earl, London, September 2009
"Eco-Home" The Geoffrey Museum, London, October 2009
"Re-Design 05 Exhibition" Dray Walk London, September 2005
"Buckinghamshire Crafts" Exhibition, Olney, Bucks, August 2000
"Changing the Furniture", Hampshire Museums, August 1999
"Creativity in Furniture Exhibition" Walford Mill, Dorset, March 1998
"Enchanted Priory", Marcham, Oxfordshire, July 1998
"Take a Seat" Exhibition, Oxford Gallery, Sept 1997
"Celebration of Craftsmanship Exhibition" Cheltenham June 1997.
Sorry, there are no upcoming events