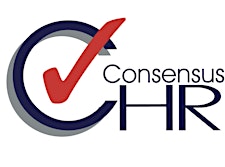 Consensus HR
We help business owners with any HR / Development issues they may have from setting up their employment contracts, restrictive covenants, policies and procedures to managing those difficult issues such as performance, absence, disciplinaries / grievances or redundancies.  

We always ensure that your business follows the law / best practice and we will write all the legal letters required.  Our advice is provided by phone, email or on-site.

We ensure that your company  always gets the fully insured guidance that it needs and at a fraction of the price of an in-house HR Dept.  

We have the highest HR / Legal Qualifications available and of which are accredited by the Chartered Institute of Personnel & Development (CIPD) and other leading professional bodies, including the Solicitors Regulation Authority and the Bar Standards Board.

We will ensure through the use of our Employment Tribunal (ET) Insurance that should your business have to go to an ET and you have followed all our advice that all costs are covered, (Note: Monthly fee paying customer only, T&C's apply)

We will always aim to ensure that you talk / work with the same member of the team each time who is up to date on your company and what action has previously been taken so that you do not have to go over areas you have spoken to us about before.

We will listen carefully to your concerns and clearly set out your options.

We will highlight the merits and potential pitfalls so you can make an informed decision.
All our regular monthly clients are provided with regular  'Blog'(s) , which gives key HR points for businesses to be aware of and ensure that the correct action is taken. This can be anything from updates in employment law to best practice tips on managing absence.