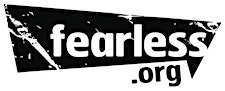 Crimestoppers & Fearless
Crimestoppers Trust is an independent crime-fighting charity. Offering ANYONE with information on crime the opportunity to call 100% anonymously on 0800 555 111. People can also give information anonymously via the Crimestoppers Online Form, available on the website. No personal information is traced or asked for.  
Fearless.org is Crimestoppers youth brand, offering young person non-judgemental information and advice about crime and criminality on the website. What makes this site different is fearless.org also provides a safe place for young people (11+) to give information about crime - 100% anonymously.
Fearless has 15 Fearless Outreach Workers delivering workshops to young people and professionals in a variety of areas across the country.
Sorry, there are no upcoming events