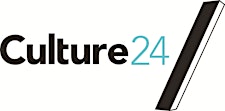 Culture24
Culture24 is an independent charity which supports the cultural sector to reach and connect with audiences.  We are a small and dynamic team of writers, thinkers, producers and publishers who love arts and culture, understand digital and believe that cultural organisations have a vital place in a better world.
We are best known for publishing great websites about culture; producing the new Emerge Festival of Museum Lates in London, and leading Let's Get Real, the collaborative action research project involving cultural organisations across the UK and Europe. We also aggregate and share data about thousands of cultural events exhibitions and venues with a range of partners including the BBC.
Culture24 provides platforms, networks and safe, collaborative spaces within which cultural organisations can work together to reach and engage audiences, benchmark, experiment and learn. We broker partnerships and strategic opportunities that it would be near impossible to access as individual organisations.
Sign up to our newsletter to receive updates about our projects and opportunities.
Sorry, there are no upcoming events